The Flip 4 expected later in 2022 may have a welcome surprise inside. The battery will be a lot bigger according to this rumor. And that was much needed.
The Galaxy Z Flip 3, Samsung's most popular foldable phone, has a battery with a combined capacity of 3300 mAh. We wrote "combined" because the device has two batteries; one in each half. The same will presumably be true of the Flip 4 but will be a lot bigger this time.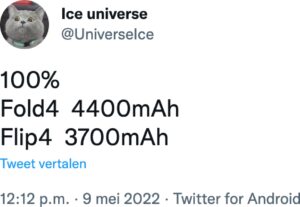 Because according to the usually well-informed Ice Universe, the Galaxy Z Flip 4 will get a 3700mAh battery. An increase of 400mAh and thus more than 10%. This should undoubtedly lead to longer battery life. A frequently heard complaint about the Flip 3 was a weak battery life. So that problem is solved!
Faster charging
A larger battery capacity is one, but hopefully Samsung will also do something about the maximum charging power. Fast charging on the Flip 3 is stuck at a maximum of 15W and that can hardly be called fast charging. An increase to 25W, as with the S22, would be a welcome addition. Short charging sessions in between will also help you get better through the day.
Flip 4 launch
The launch of the Z Flip 4 is not expected until August 2022. Samsung will then presumably announce it together with the Z Fold 4 during a specially organized Unpacked Event. The latter will have a battery capacity of 4400mAh, according to the same source. That's the same amount as the current Fold 3.