This article needs no introduction, as its about the antenna issues of the new iPhone 4. What's the current state of affairs? What's the cause of the problems? Is it severe and what are the best jokes so far? We we lay it all out before you.
The Apple iPhone 4 is one of the best selling phones of this moment. The press was enthusiastic even before the actual launch of the phone. In the hands of consumers, there seems to be a serious problem: the antenna. What is meant to be a piece of 'brilliant engineering' may actually be an classic design flaw. A flaw that has been predicted by a Danish professor.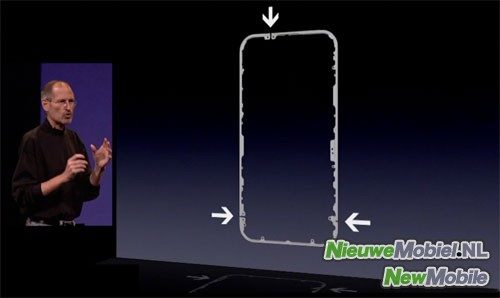 On June 10th, Professor Gert Frølund Pedersen, who works at the Danish Aalborg University , said that an external antenna is a bad idea. It made him a true Nostradamus.
"Human tissue has bad influence on the antenna. Touching it means that a large part of the energy in the antenna is converted to heat and is lost."
He was right, as is demonstrated in many YouTube videos showing iPhone 4 touching the antenna.
Steve Jobs replies
Having a CEO who is known to be a helpdesk as wel, some iPhone owners decided to send Steve Jobs an e-mail, asking him wether Apple knew the problem. Jobs' reply (assuming that these are authentic reply mails typed by Steve Jobs) is as quick as it is humiliating;
"Just avoid holding it in that way."
In other words, client reporting signal issues are just holding their brand new smart phone wrong. For advise how we do have to hold the iPhone, help is on its way. Let's watch Apple's video about the new iPhone.
It seems like they're doing it wrong at Apple's headquarters too. No wonder that Steve Jobs had no internet during his Keynote.
Non-issue
The awareness of the issue is raising at Apple's too. An internal memo meant for AppleCare employees landed in the hands of BGR. In summary, the document tries to blame the owners of phones, who should hold the phone in the right manner. Moreover, the memo advises using a bumper, one of Apple's own products.
That last advise brings us to an interesting point. As you may know, Apple has tested the iPhone 4 in a real life situation in open air, disguised as an iPhone 3GS. The 3GS has no external antenna, so it may be that the disguise has prevented the testers from noticing the alleged design flaw. Apple's mystification of new products probably has turned against it.
A few days later, Steve Jobs answers to a troubled iPhone 4 user:
"There is no reception issue. Stay tuned."
Apple always is a step ahead. Is there no problem with the hardware, and can the issue bee tackled by a simple software update? Jobs' anwser makes the last option probable. Will iOS 4.0.1 bring a solution? It is a very interesting details that, as of June 23th, Apple is hiring three new "Antenna Engineers".
Lawsuit
Actually, we do not believe in a software solution to this problem, and we are not the only in the world. Following good American practise, iPhone 4 users are suing Apple. KCR (Kershaw, Cutter & Ratinoff LLP) is looking for disappointed customers. There are many of them, so KCR is having busy days.
Parodies
Problems for Apple means creativity on the internet. All critique comes with a good portion of humour. We gathered the best jokes below to have good laugh after all the iPhone tears.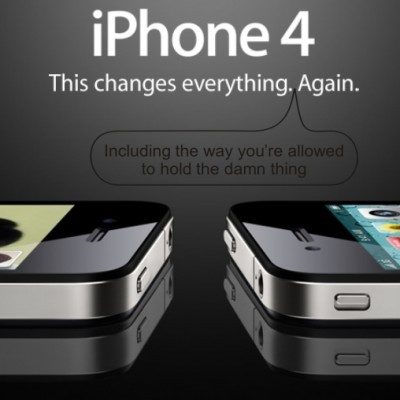 Nokia joins the club of comedians by showing how to hold your Nokia.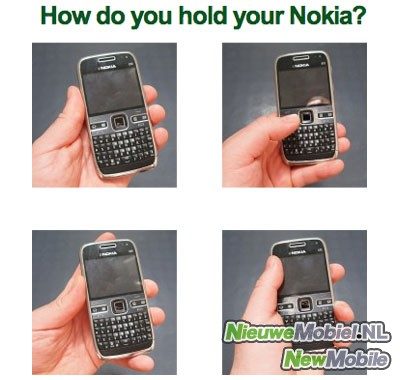 Not particularly addressing the antenna, but no less fun is this iPhone 4 promo spoof.
And, to be clear,... we are not Apple bashers. Here at NewMobile HQ we work on Mac computers, make phone calls using an 3GS and work on our MacBook Air while travelling. But we neither are Apple fanboys. We just are critical.