At WWDC 2022, Apple demonstrated the new iOS 16 for the first time. Version 16 brings numerous new features and improvements, like a new lock screen. But that's not all. These are the most important differences.
During a two and a half-hour keynote, Apple showcased many software innovations. Like new versions for iOS, iPadOS, WatchOS, and macOS. For iPhone users, the new iOS version is the most interesting. Version 16 won't be released until the end of this year. Possibly the biggest change is the renewed lock screen. Starting from version 16, you can customize it.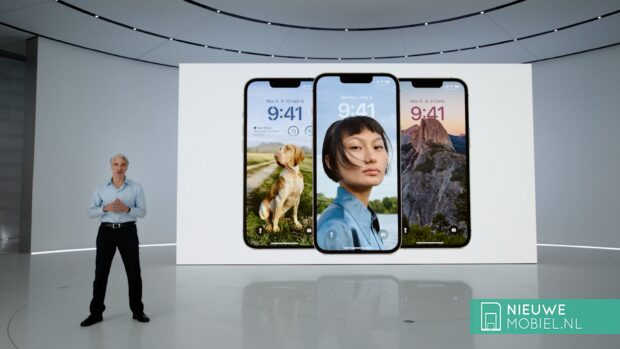 The lock screen can be personalized by changing the font, adding widgets, and choosing colors. A nice feature is depth recognition in photos which shows the clock either in front of or behind it. You can save settings as a style and switch between them. Instead of one background photo you can now also use an album of photos (Photo Shuffle). The new personalized lock screen looks a lot like Android's Material You, where you can also customize colors and shapes.
Focus
Focus is also coming to the lock screen. It allows you to mute certain apps that often distract you and they will no longer appear on the lock screen. And certain apps get support for Focus including the Safari browser. For example, you will only see tabs that are work related.
Messages
Apple's Messages app will get three much requested features. Sent messages will become editable, ideal for correcting small spelling errors before they are read by the recipient. Sent messages can be retracted and a thread can also be set to "unread". Another addition to Messages is SharePlay. This was already available in FaceTime but will soon come the Messages app as well.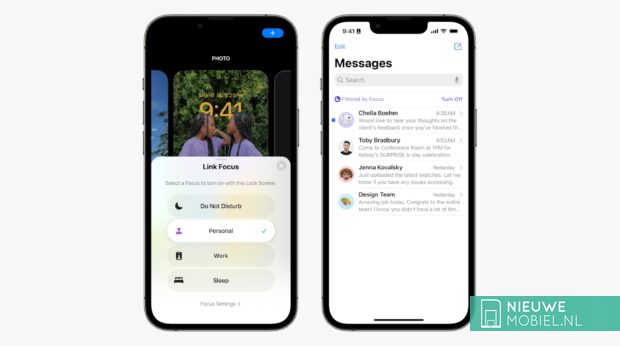 Dictation
Apple is making further improvements to text dictation. It will be easier to combine speech with written text. For example, the keyboard remains active even when text is dictated. Also, iOS 16 adds punctuation automatically and you can add emojis by using speech.
Live Text
iOS was already able to select text from photos but in iOS 16 this also works with video. Pause a video and you'll soon be able to select text. And thanks to Quick Actions you can also translate or convert that text, for example in the case of foreign currency. And thanks to AI and machine learning, you can automatically cut and paste objects. With Visual Lookup, it becomes possible to recognize a dog in an image, and cut and paste it into a message.
Wallet
Identification is added to the Wallet app. In-app ID verification only works with third party apps that actively support it. If they do, they only send information that is relevant for the request. For example, age verification does not require the entire date of birth but In-app ID verification only returns a "yes" or "no". Apple is further working on sharing added keys, for example for a hotel room or car. This should become a standard that other manufacturers also work with.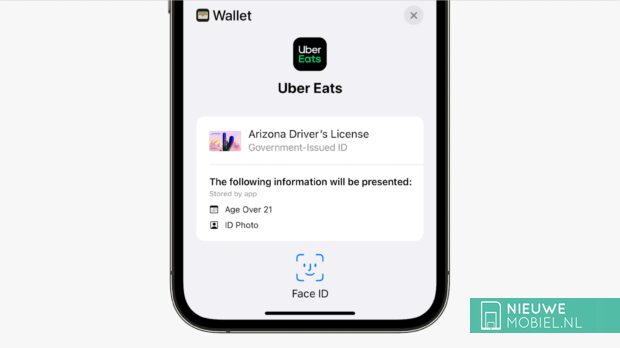 Apple further introduces a new payment method; Apple Pay Later. This involves splitting an bill into four equal parts and pay it later without interest. Whether this will be rolled out outside the US is still unclear. Furthermore, manufacturers can add support for order tracking in Apple Pay. With Apple Pay Order Tracking it will then be possible to track the progress of your order.
Apple Maps
Apple announced during WWDC that it will roll out the new app experience to 10 additional countries including the Netherlands, Belgium and France. They will also have access to the new City Experience where distinctive landscape landmarks are displayed in 3D. Apple is further adding multistop routing to navigation. There is a maximum of 10 multistops. And if you want to travel by public transport, you will soon see the cost of the journey.
Sports
Good news for sports fans. Apple News is getting a sports category called My Sports. This will be released in only 4 countries for now and you will be able to follow sports results in real time, for example.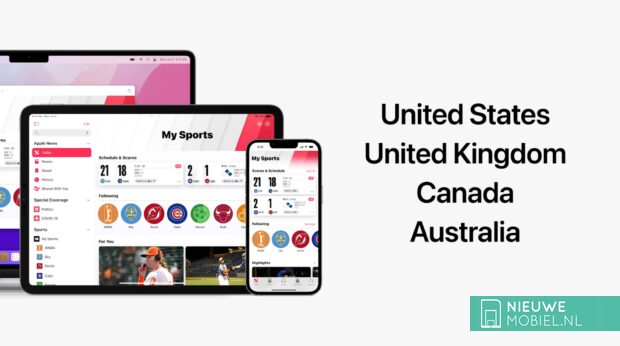 Family Sharing
Apple continues to work on Family Sharing where you can share subscriptions with up to 5 family members. As a parent, you will have more possibilities to restrict app usage, for example based on age. Sharing is also coming to the Photos app. You can create a photo album together with family members and add, change and delete photos to it.
Privacy
In terms of privacy, iOS 16 comes with Safety Check. Here you can check who has access to what, and you can revoke it. Think about access to passwords and location. This can be useful for those dealing with domestic violence or wanting to break free from an abusive relationship.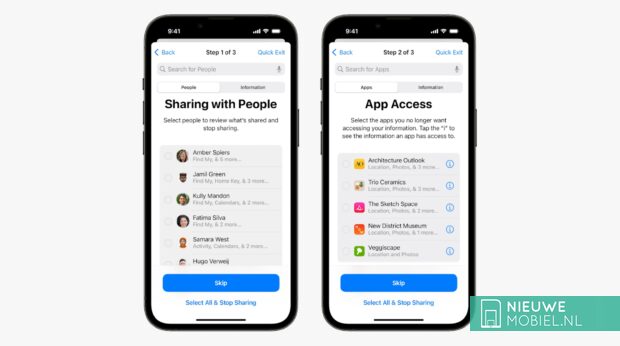 Home
Apple also announces an all-new Home app that includes categories. Apple further promises support for the new Matter standard. The intention is for manufacturers of smart devices to support it which should make it easier to communicate and collaborate with each other.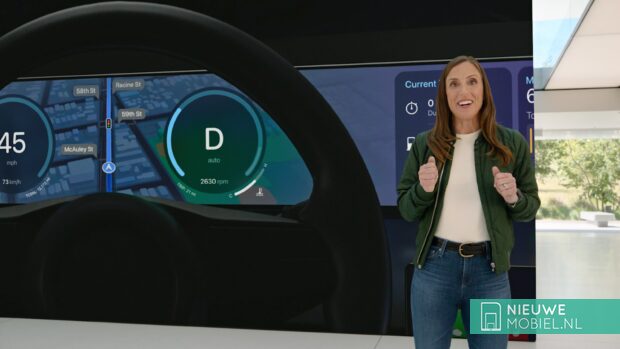 Carplay
No car was announced but rather a new version of Carplay. It's already a pretty popular way to control your iPhone in the car but this will only get more. The new version of Carplay should take over almost all screens of your car, right down to the instrument cluster. You can place instruments like a speedometer wherever you want and add widgets. The new Carplay should also give you more control over the car so you'll soon be able to adjust things like the temperature and radio station.
Apple has released a beta of iOS 16 but it is only intended for developers. For daily use it is strongly discouraged to install it because it still contains bugs. A final version of iOS 16 is expected this fall. Probably with the launch of the iPhone 14