After the earlier rumor came the official confirmation from Microsoft: the Surface Duo can be ordered as of today. The device costs $ 1399 and orders will be shipped starting from September 10.
That price leaked out earlier. It's high, but seems justified when you look at what you get in return. We're not talking about bare specifications, but more about the ingenious hinge mechanism. This hinges turns 360 degrees so that the Surface Duo can be folded completely flat. Something the Samsung Galaxy Z Fold 2 does not. The Surface Duo is only 9.9 millimeters thick, the Fold2 no less than 16.8 millimeters.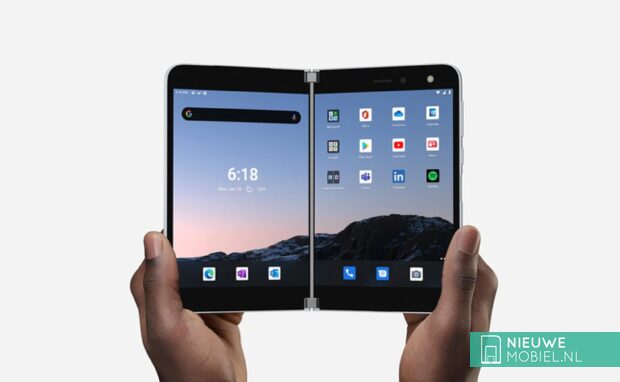 Microsoft does not use one screen that folds, but two separate panels. Because of this, there is a small space between both panels, but strangely enough this is hardly noticeable during use. Each panel is 5.6 inches in size, which together makes 8.1 inches. Each half houses a battery that is larger in the left part. Together they do not exceed 3577 mAh which is not very generous compared to some other flagships. Those rarely fall below 4000 mAh. In spite of that, Microsoft promises a full day's of battery life. Something we would like to see thoroughly tested in an independent review.
Missing specifications
It is powered by a Snapdragon 855 with 6GB of RAM, starts with 128GB of storage and has 4G support. 5G is missing, except it on its successor as well as NFC. Microsoft is accepting preorder starting today, that is if you live in the USA. Samples will be delivered as of September 10 at a starting price of $1,399.