Boycott or not, Huawei always surprises with innovative smartphones that look slick. Soon we may be able to welcome the Huawei Mate 40. If these renders are correct that is.
One of the most important features of a mobile phone is the camera. Huawei realizes this all too well and therefore it can't go wrong emphasizing this a little extra. And what better way to do that than by using a large camera bump. Make it round and you get the Huawei Mate 40! And when you see the picture below, you'll understand the exclamation mark.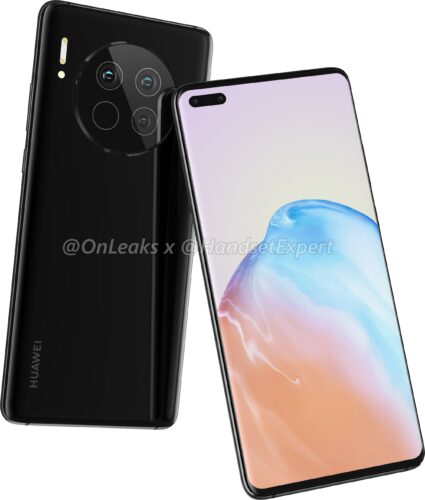 A circular camera bump is not new for phones. OnePlus briefly used it on the 7T and Nokia is no stranger to this design either. The iconic Lumia 1020 and more recently the 7.2 all incorporate this design philosophy. Putting your cameras in a big circle emphasizes its camera performance. And yet, we still don't know anything about its camera specifications. The source doesn't mention any. Except of course that there are 4 camera-sensors but we saw that ourselves.
Huawei Mate 40 specifications
Another change with the Mate 30 is the hole-punch for the double selfie camera instead of a notch. It looks more modern and it also quite compact. There is still some space between the two camera-sensors so we suspect that there are other sensors here, possibly for even more accurate facial recognition. We saw this earlier with the Mate 30 Pro.
Furthermore, the source, who bought their images from @Onleaks, reports that the screen probably measures 6.4 inches, is 8.9 millimeters thick and has some mysterious sensors on top of it. Expect the device without Google services on the market sometime in the autumn. Whether there will also be a worldwide launch, the Mate 30 did not come out in many countries.