Samsung has already unveiled her second Galaxy Fold but it has not been officially announced. This should change on September 1st during Unpacked Part 2. And we already have a price; firm as always but lower than the first generation Fold.
Let's start with that prize. According to WinFuture it will be 1999 euro. Of course it is high but it is 100 euro cheaper than the original Fold. Moreover Samsung puts the price below two thousand euros mark which can be seen as a psychological barrier. Hopefully this is the beginning of a trend; foldables are getting cheaper and cheaper.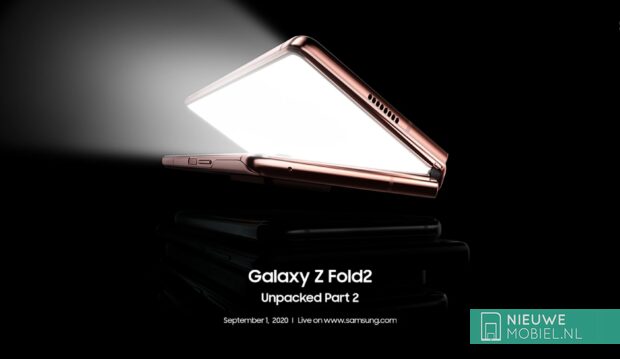 If we compare the Galaxy Z Fold 2 with its predecessor, 2 things stand out. The Fold 2 gets half the storage memory. Although 256 GB of storage can still be called generous. Moreover it is still not expandable. What is more striking is the camera choice. On the inside, the double selfie camera is gone and on the rear, the 16MP sensor has been exchanged for a 12MP one.
Fold 2 improvements
But in general the Fold2 is mostly an improvement. There is a larger screen on the outside (6.2 against 4.6 inches), larger screen inside (7.6 against 7.3 inches), a higher refresh rate of 120Hz, more powerful processor and 5G support. There's no built-in S-Pen as some earlier rumors mentioned. The pen remains exclusive to the Note-series. Expect the Samsung Galaxy Z Fold 2 in stores shortly after its launch on 1 September and don't forget to bring a hefty bag of cash.