The Google Tensor processor. We know it's coming and that it will succeed the Qualcomm Snapdragon. But how much faster is it and what is it capable of?
Via a webpage of Carphone Warehouse we might get an answer. The page has been taken offline but we (fortunately) still have a copy. On this page you can read that the Pixel 6 is up to 80% faster than the Pixel 5.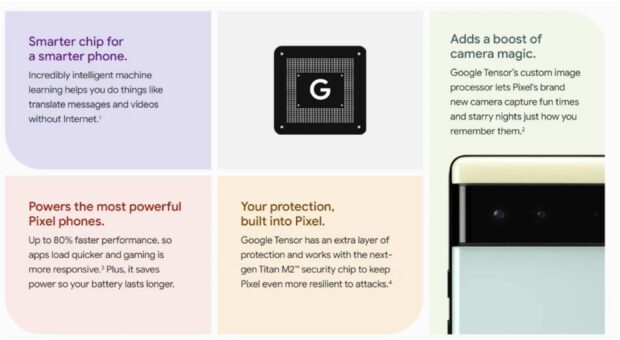 We also read that the processor features On-Device Machine Learning, a custom image processor, and a next-generation Titan M2 security chip. But the headline with "80% faster" is the most important as far as we're concerned but one that we have to put in perspective.
Tensor vs Snapdragon
Because the Google Pixel 5 did not use the Snapdragon 8xx series but the midrange 765G. Comparing this chipset to the Snapdragon 888+ 5G, currently the most powerful Qualcomm chipset, we see a 120% better AnTuTu score and a 95 to 106% higher GeekBench score for the 888+. In other words; the Tensor is not faster than the most powerful Snapdragon processor.
Apart from this, Android 12 also has performance and speed improvements. Google managed to reduce the CPU time by 15 to 22% and the startup times of apps are improved, especially those started from a notification. Google will announce the Pixel 6 and Pixel 6 Pro on Tuesday, October 19, and that will also be the official launch of Android 12.