Who remembers MagSafe? The beloved magnetic charger for MacBooks. They've been swapped for USB C chargers and the technique no longer appears in Apple's modern line up. But that's about to change, even if it's not what you might think.
Because according to a new rumor, Apple would revive the term for its own wireless charger. The iPhone has been able to charge wirelessly since the iPhone 8 and 8 Plus but to date Apple has never released a wireless charger of its own. It's not necessary because any Qi-compatible charger will do. Apple was about to release its own charging mat but it was eventually canceled. Instead we may get this.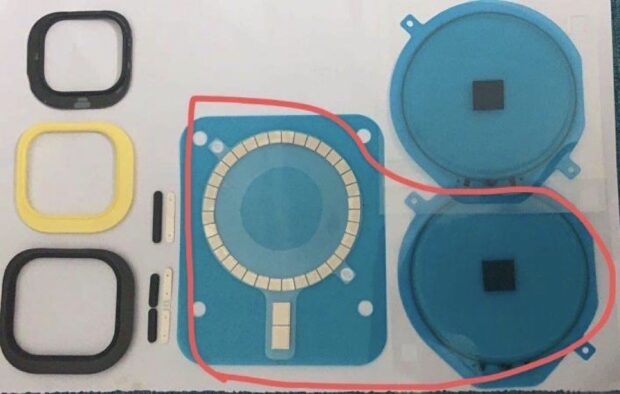 A MagSafe Charger with a maximum power of 15 Watts. That's quite fast for wireless chargers (current iPhones don't accept more than 7.5 Watt) but there are now also 30 Watt wireless chargers on the market. Possibly there will also be a MagSafe Duo Charger where you can simultaneously charge 2 devices. This sounds familiar of the announced AirPower charging mat that was canceled due to various problems.
MagSafe Charger
What does wireless charging have to do with MagSafe we hear you think? A common problem with wireless charging is that the device has to be placed fairly precisely on the charger. One millimeter too far and it does not charge. Pretty annoying if you wake up in the morning with an empty battery. To solve this problem, Apple might equip the iPhone 12 with magnets. These are placed in a circular pattern and align with the MagSafe Charger. These magnets should automatically align your iPhone.
Pictures of these magnets appeared earlier but then it was unclear what they were used for. Possibly Apple introduces next to the MagSafe charger also the possibility for the iPhone 12 to give away power wirelessly. Ideal to charge your AirPods via your iPhone. This feature has been available for Android users for a long time but has been missing for Apple customers until now. Tuesday October 13th we will hear what is true about these rumors. Then Apple officially announces the iPhone 12 series.
Source: Kang (via Weibo)