Samsung has announced a special edition of the Galaxy Z Flip 3: the Bespoke Edition. It's a personalized version of Samsung's most popular foldable phone where you choose the colors of the panels yourself.
In the Bespoke Studio you can choose the colors of the panels of the Flip 3. You can choose between 5 colors; blue, yellow, pink, white and black. For the hinge you can choose between black and silver. In total there are 49 different color combinations possible.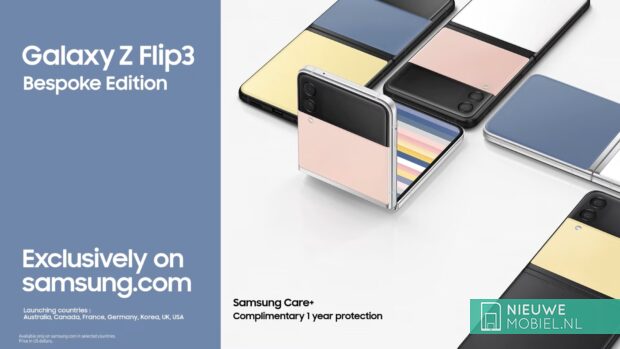 The personalized Flip 3 Bespoke Edition is only available through samsung.com and is custom made. The colored panels can be swapped for other ones afterwards. The Z Flip 3 Bespoke Edition will be available from October 20th for a retail price of $1099 in a select group of countries including Australia, Canada, France, Germany, South Korea, the United Kingdom and the United States. It comes with 1 year free Samsung Care+ which protects you from accidental damage.
Galaxy Watch 4 Bespoke Studio
The Galaxy Watch 4 will also have a Bespoke Edition that allows you to choose the color of the body and the strap. Again, you can get this exclusively from the samsung.com website using the Bespoke Studio.