Thanks to a leak we now know the full specifications of the upcoming Galaxy S21 series. These are specifications about the S21, the S21+ and the S21 Ultra. There aren't a lot of surprises, but there are some that stand out.
To start with some bad news; the build quality. Samsung already started this transition with the S20; plastic. Thats not necessary bad in itself, but it does feel very cheap for a phone in this price category. We prefer glass or metal. Next year, both the S21 and the larger S21+ will have a plastic back. One advantage is that it does not break as easily as glass.
Specifications Samsung Galaxy S21 Series
Galaxy S21
Galaxy S21+
Galaxy S21 Ultra
Display
6.2-inch FDH+ 120Hz
6.7-inch FHD+ 120Hz
6.8 inch WQHD+ adaptive 120Hz
Camera
12 MP ultra wide angle
12MP primary
64MP telephoto
12 MP ultra wide angle
108MP primary
10MP: 3x optical zoom
10MP: 10x optical zoom
CPU
Snapdragon 875 or Exynos 2100
Battery
4,000 mAh
4,800 mAh
5,000 mAh
Software
One UI 3.1 with Android 11
Connectivity
5G, WiFi 6 and Bluetooth 5.1
5G, WiFi 6E and Bluetooth 5.1
Colors
Phantom Violet, Phantom Pink, Phantom Gray and Phantom White
Phantom Silver, Phantom Black and Phantom Violet
Phantom Black and Phantom Silver
If we continue with the cameras we are treated to the second disappointment. We expect little change in that area. On paper it uses the same 12MP main camera, 12MP ultra-wide-angle lens and a 64MP telephoto zoom. Those who want more should head to the S21 Ultra but more about that later. For those who had hoped for a Snapdragon 875 processor from Qualcomm: we have some bad news. Europe will get an Exynos chip just like previous years. Although they do promise that the Exynos 2100 will have comparable, and possibly even better performance.
Samsung Galaxy S21+
5G and WiFi 6 are still present so let's look at the battery. Only the one in the Galaxy S21+ is bigger; 4800 mAh against 4500 mAh last year. The one in the S21 remains at 4000 mAh; this is starting to get a bit cramped for a 6.2 inch phone.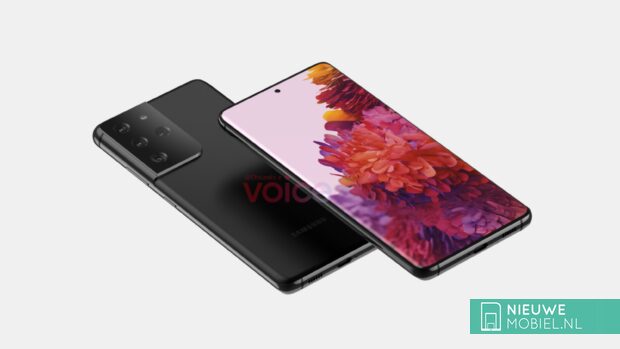 Samsung Galaxy S21 Ultra
If you want a little more, both in terms of size and technology, you should opt for the S21 Ultra. Not only is the 6.8-inch screen the largest of the three, it's also the only one with an LTPO panel with a variable refresh rate of up to 120 Hz. This is also better for the battery life. Considerable progress has also been made in the camera area, especially with the telephoto zoom lens. There are two 10MP sensors that can zoom in 3x and 10x optically. Problems with the autofocus have been solved. What remains is a 108MP main camera and a 12MP camera with ultra-wide-angle lens. Enough to make everyone jealous.
One More Thing
For some time there have been rumors that the Note and S series will merge. This will not happen in 2021, but the first step is set. The S21 Ultra works with the S Pen. It will not be built in, but Samsung will probably sell cases in which you can store them. Until now, the S Pen could only be used with Galaxy Note phones and some Galaxy tablets.
The Galaxy S21 series is expected early 2021, to be exact somewhere in January. That's earlier than usual, possibly to be more in line with Apple's iPhone release, to make up for disappointing sales of the S20 series or to take in Huawei customers.
Via: AndroidPolice
Image: @onleak