Last week we spotted a reference to the Galaxy S21+ in 'Phantom Green' in Samsung's own webshop. However today it is also mentioned on Samsung's own website. Unfortunately we don't have for you yet, but we do have a lot of other details.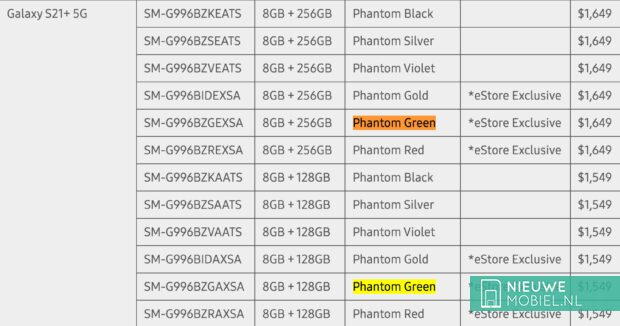 For now only the S21+ comes in this new color and will be available exclusive from Samsung's own eStore. You can choose between the 128 or 256GB of storage. Both come with 8GB of RAM memory. Prices are €1049 (£949 and $1549) and €1099 (£999 and $1649) respectively.
The Samsung Galaxy S21+ was announced in 'Phantom Black', 'Phantom Silver' and 'Phantom Violet'. Via Samsung's own web shop, it can also be ordered in 'Phantom Red' and 'Phantom Gold'. This is the first time that Samsung is offering exclusive colors. It is still unknown when exactly we will see 'Phantom Green'.
Mystic Green
Green is not a new color to Samsung. It previously released the Note 20 in green, then under the name 'Mystic Green'. And the S10 was also released in green but under the name 'Prism Green'.