The launch of Samsung's Galaxy S21 series is coming. And it is coming soon. New photos pop up almost every day now. And today is no exception. This time it is a purple S21+ that is captured on photo.
The Galaxy S21+ not only promises to be the bigger brother of the S21, it has also a glass back, together with the S21 Ultra. The entry Galaxy S21 is expected to have a back made of plastic. The picture from today shows that back side but it's hard to tell if we are looking at glass. What does become clear is that the screen of the S21+ is flat with thin screen bezels.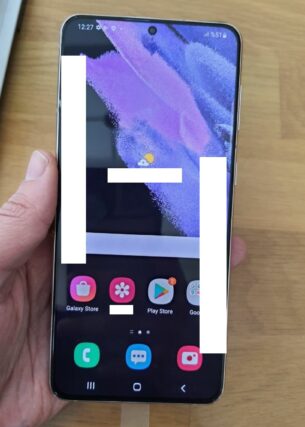 Apart from the renewed look, which is mainly found on the back, these photos don't teach us much more. One UI looks almost the same as the current version and we don't hear any new specifications. So we have to do with what we already know. Fortunately that is quite a lot. For example, we know that both the S21 and the S21+ have a flat Full HD screen of the Infinity-O type with a maximum refresh rate of 120Hz.
Galaxy S21+ specifications
Both also have a 10MP selfie camera in the screen with a triple camera system consisting of 64, 12 and 12 megapixels on the back. Both are powered by an Exynos 2100 processor at up to 2.9 GHz with 8GB of RAM memory. Storage options are limited to 128GB and 256GB. The S21 series may not have a memory card slot to expand memory. Differences are in the screen format (6.2 and 6.8 inches) and battery size (4000 against 4800 mAh). Thursday the 14th of January the S21-family will be officially unveiled and then we will (hopefully) hear more.
(via)