After the date has been mentioned many times as a possible launch date for the Galaxy S21 series, Samsung finally confirmed it. The Galaxy S21, the S21+ and the S21 Ultra are officially announced on that date.
Samsung send out her invitation via Twitter. "Your experience will be even more epic on the 14th of January", it reads. There is also an animation, albeit somewhat blurred. This is probably the renewed camera module of the S21 and the S21+. The S21 Ultra, as we now know, has an even larger island with more modules.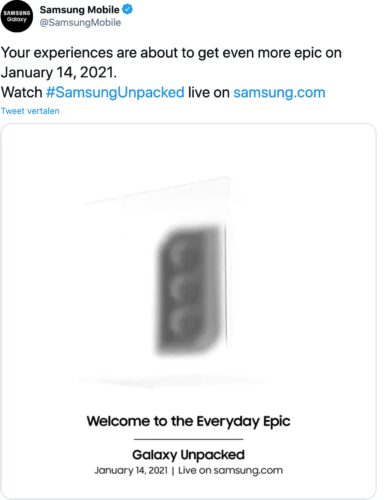 As regular viewers we don't expect much spectacle; everything of the trio seems to have leaked out already. For example, the S21 with plastic rear is expected to get a lower price, the S21+ has a glass rear and equipped with a larger battery and the S21 Ultra is the ultimate flagship with impressive camera features and S Pen support. By the way, the latest news about the Ultra is about the same S Pen.
S Pen support
According to WinFuture Samsung comes with a separate accessory for the device. It would be a case in which you can also store the S Pen. For an amount of 40 euros you can also buy the S Pen separately but then you need to think about where you want to store it. In the device, like a Galaxy Note, is not possible.
All details will become clear on January 14th. The event starts at 16:00 CET and can be followed online via samsung.com.