Currently, foldables stand synonymous with expensive—premium phones with high-end specifications at an extremely high price. And even though the price is already creeping toward the thousand-euro mark, or even just below it, that's not enough for Samsung. They are aiming for a foldable of between $400 and $500.
At least that is what Revegnus, better known by his handle @Tech_Reve, is claiming on X. Currently, Motorola's razr 40 is the most inexpensive foldable. It cost €900 when it came out. Meanwhile, you can also buy a Galaxy Z Flip from the previous generation for around €550 as well.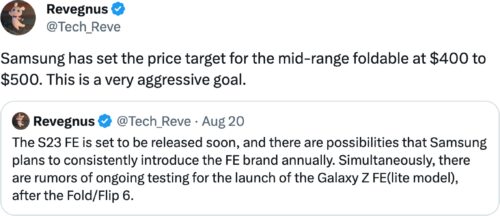 Most foldables have one thing in common: they are high-end. Although you can doubt that of the razr 40 with its small cover screen and mid-range Snapdragon 7 Gen 1 processor. Samsung wants to dive deep below that price, aiming between $400 and $500. How Samsung plans to meet that target remains to be seen; it may use its Exynos processor and save on camera sensors.
Flip/Fold FE
According to the same source, the cheaper foldable could be released under the FE branding. Samsung uses this name for more affordable versions of some premium models, particularly from the S series. Time will tell if it comes to a product with such a low price.