Ben Geskin has posted part of the final marketing poster on which both the Samsung Galaxy S22 Ultra and S22+ are posing. Not only that, but we can also see what colors both devices will come out in.
The Samsung Galaxy S22 series is coming and we are going to hear a lot of that in the near future. The amount of leaked information is piling up and there is more on the way. Today it's the turn of an alleged official poster showing the Galaxy S22 Ultra and the S22+. In a pink/copper and white/silver color respectively.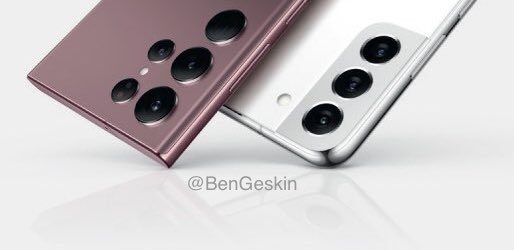 The above image appeared on the Twitter timeline of Ben Geskin. How Ben got this image is not clarified but he claims that these are official images. Renders of both phones leaked out earlier but these are the first official images for now, if the rumors are true of course.
Exteriors
Because we already knew what both phones will look like, the image above teaches us little new in that area. The Ultra, which may soon be called "S22 Note", has a different back, it does not look like an S22 phone. The top is also not rounded off like the sides. There is even a slot for an S Pen at the bottom, something that was missing from the S21 Ultra despite that it did support the pen.
Expected colors
In addition to the colors shown here, the S22 and S22 Plus will soon come out in black, gray, beige, blue, green, purple and rose gold. We expect the S22 Ultra in fewer colors but still in white, black, red and green.