Over the past few days we've received rumors that Motorola is working on a new Moto G flagship. One with a high-end Qualcomm processor and with a launch date set in 2021. Presumably the Snapdragon 865 processor of 2020 has been chosen and not the Snapdragon 888 expected in 2021.
A high-end Moto G device quite te surprise. Currently there is no high-end Moto G flagship. For flagships Motorola has introduced the edge series containing the edge+. The Moto G-series currently consists of relatively simple models where a competitive price is key. Nevertheless, a high-end Moto G model is coming in the form of this 'nio'.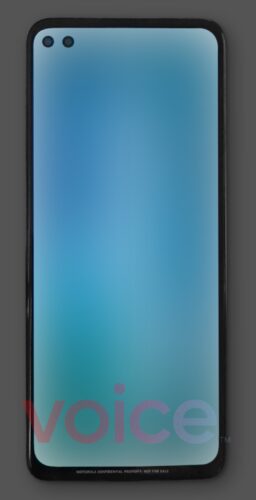 A picture of the nio appeared on the Voice-page by Evan Blass whom we know better by his twitterhandle @evleaks. A Moto G phone with a Snapdragon 800 series processor would be a first. Besides this, Blass reports several specifications. Something he usually doesn't do.
Specifications Motorola 'nio'
For example, the still unnamed Moto G will have a 5000mAh battery, 8GB of RAM memory and an immense 256GB of storage memory. Still, the most important feature might be another one. Motorola is supposed to be working on a competitor of Samsung DeX. It allows you to hook up your phone to a monitor, keyboard and mouse. This desktop mode is especially useful for business use. From the photo, we further conclude that the nio has a double selfie camera, each placed in a punch-hole.
Payable flagship?
Because Motorola hasn't announced this 'nio' and we don't know the full set of specifications, it is difficult to place it. The device will probably not compete with the most expensive flagships, but more the Samsung Galaxy S20 FE phones of today. If the price matches that is. These affordable flagships are very popular at the moment. Get more for less. Whether that is actually the case will have to be determined in early 2021. Then the launch of this Motorola is expected.