LG G3 review
Passed or passed?
---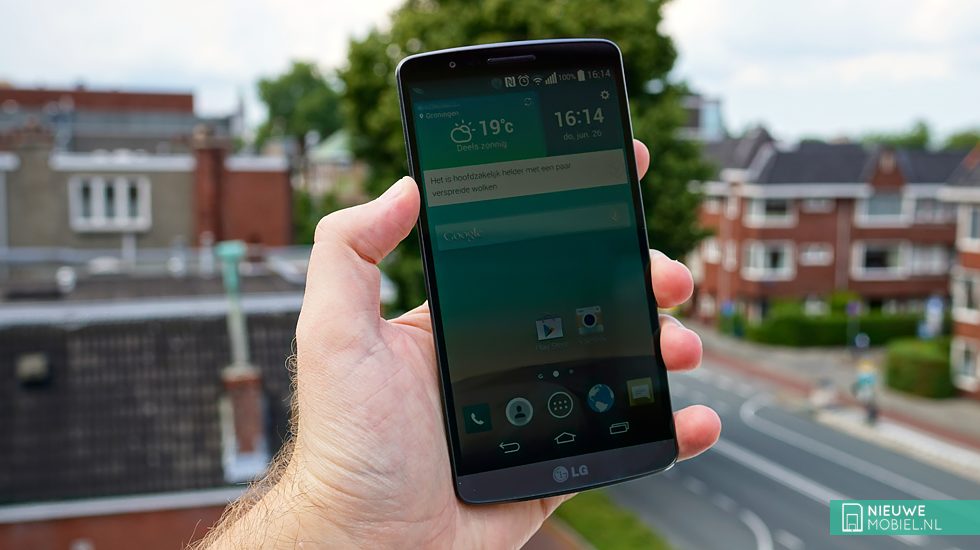 Rarely have we looked forward to an LG phone like the G3. Of course, the company has been making desirable Android phones for some time, but they never really stand out from the rest. With the G3 it seems to be really different.
Because they really pulled out all the stops at LG to be distinctive. In terms of hardware, software, design, user-friendliness, marketing and even accessories. Nothing seems to have been left to chance, as if it's on or under for LG. That's a bit exaggerated of course, LG was already doing reasonably well with the G2. It just wants to make sure that the G3 will positively overshadow that success.
Moreover, the LG with the G3 seems to want to usher in a new era, one of phones with Quad HD screens. The question is whether other manufacturers will follow. Samsung seems to want to come up with an answer anyway. Other manufacturers are expected to wait a while with such high resolutions. Among the current competitors are the Samsung Galaxy S5, Sony Xperia Z2 and the HTC One (M8). However, precisely because of its size, the larger Note 3 or its future successor could also be seen as an alternative.
---
What's with the device?
The LG G3 D855 comes in a rather ostentatious box that is asymmetrically cut. Inside we find a charger, data cable, headphones and some documentation. It doesn't seem to be just earbuds but the so called 'QuadBeat 2 LE530'. The cord is flat so it doesn't get tangled up, the sound quality is above average and there are control buttons and a microphone in it. A total of three different types of attachments are included to find the perfect connection in the ear.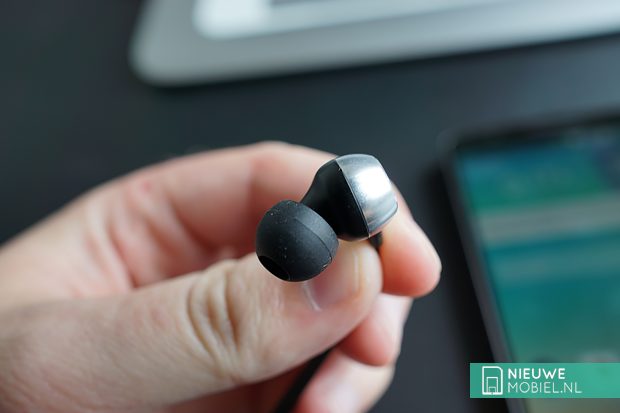 LG has also released a matching accessory; the QuickCircle cover. This is a separate cover where you have to replace the back and a round hole in the front. The G3 recognizes the cover and the interface is adapted to it. Notifications are shown but you can also operate the phone without opening the cover. The QuickCircle cover costs 39.99 euros and is available in different colours.
Appearance
On paper, of course, a 5.5-inch phone is immense. A flagship phone the size of a phablet without LG promoting it as a phablet. Even in real life, the G3 is large, although this is well disguised by various cosmetic and design aspects.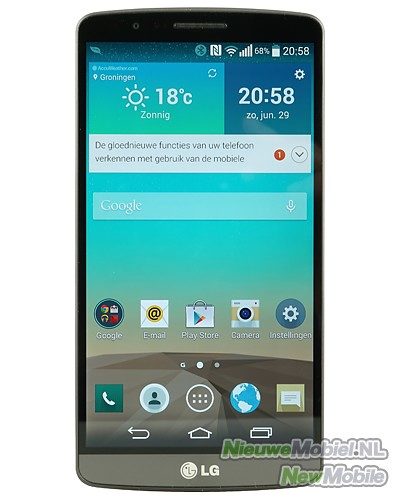 ".
The front is characterized by a large black glass plate. This is extended to the edge and is only interrupted by a grey LG bar at the bottom of the screen. There is a subtle circle pattern in this but it is not noticeable because it is behind the glass. At the top we find the loudspeaker grill with on the left the various sensors and a selfie camera.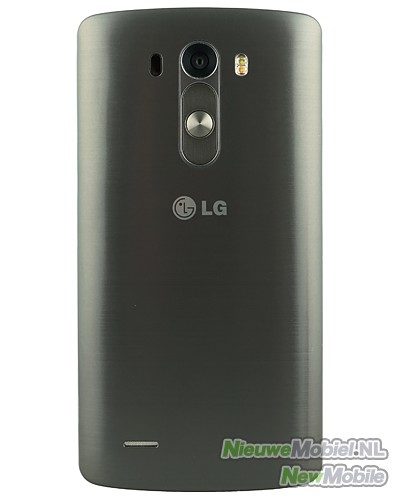 ".
On the back of the camera module we find the renewed control buttons. They recognise the power button better by touch and don't stick out the buttons as far as the G2. The G3 is therefore much more solid on your desk. Although it still wobbles this time because of the bulge of the camera. To the right of the camera is a two-color LED flash and to the left a mysterious black module. This is the laser autofocus to be more about later. At the bottom left is a silver-colored grill with a remarkably loud speaker behind it.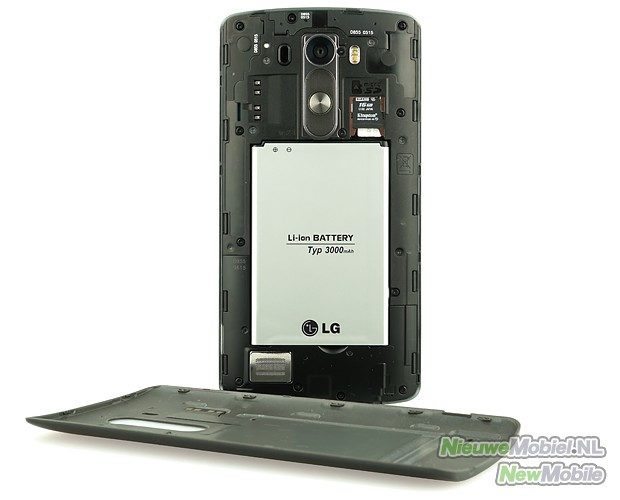 The back is made of plastic and can be removed. So you can replace the battery yourself. Instead of a plastic look, LG opts for a more premium metal look. As we understood it, metal particles have been incorporated into the paint to create a 'Brushed Aluminium' look. Very nice and subtle on top of that. In spite of that, it still feels ordinary plastic. Another big advantage is that the device is quite insensitive to fingerprints.
Because the LG G3 has the control buttons on the back, the sides are free of buttons. LG chooses to have an extra small screen border. This is justifiable, although not everyone is a fan of the buttons on the back. Fact is that you do not accidentally press a volume button when you grab the device. It is also easier to place the device in a universal carholder. Even if you can't reach the volume buttons by yourself. Well, there is always something.

".
The top has an infrared transmitter and we find the second microphone to reduce noise. At the bottom are the connections for the headphones and the charger. In between is the main microphone.
In practice we regularly encountered problems to operate the G3 with one hand. Whether it's the size of our hands, or the fact that the G3 is just a big phone, sometimes you need two hands to work with it. The question is whether that is a problem. For example, if you want to send a message quickly with one hand on the road, tricks have been invented to make that possible, it will never be really nice to operate with one hand.
Endurance
LG has pulled out several techniques to extend the battery life. They have succeeded reasonably well. For example, the frame rate is screwed down or up if necessary. The same goes for clocking (processor) and timing (operating system). This combination is called '3 Adaptive Optimalization'. Fortunately, as a user, you don't notice much of it, except that the battery lasts for more than a day. Even with very intensive use, we still managed to get the end of the day by 20%.
".
There is an energy saving mode available that you can automatically switch on from 50, 30, 20 or 10%. Once turned on, things like synchronization, WiFi, Bluetooth, the vibration function, screen brightness and screen time-out can be turned off. You can choose what to turn off and what not. In the end, we didn't need this mode at all, so we can't say much about how it works. This is a compliment because it means that the LG G3 will last a long time.
Call quality
We had no problems with call quality during our test week. Conversations are crystal clear and we also received no complaints from our interlocutors. There is still an option to turn on voice enhancement while calling, but we could not notice a really clear difference. And maybe that's a good thing too. Finally, the sound can be turned really loud, so be careful.
".
The interface to dial a number looks familiar and simple. Also the overview of the call history is more than fine. It is possible to set up a filter so that you only get missed calls.
Display
The LG G3 is the first phone from a major manufacturer with a Quad HD display. A Quad HD screen should not be confused with a qHD screen with 960 x 540 resolution that does not match the 2,560 x 1,440 pixels of the G3. Never before have we seen so many pixels on a phone screen. By spreading this number over 5.5 inches, a pixel density of 534 PPI is created. Already a record. The large number of pixels is hardly noticeable, often not even. There will be plenty of people who cannot distinguish QHD-resolution from Full HD at all. This raises the question of what you can get out of such a high resolution.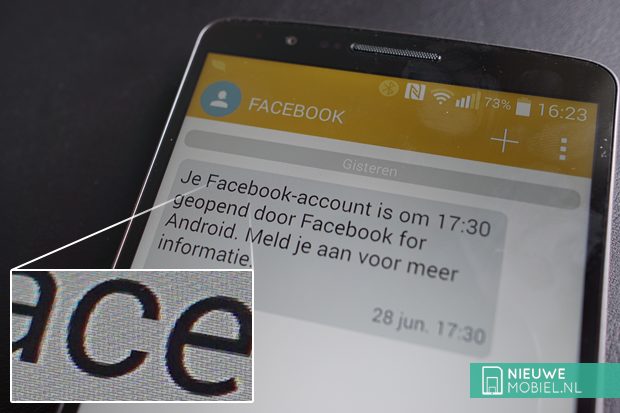 Driving nearly 3.7 million different pixels and over 11 million subpixels requires a lot of computing power. The LG G3 is not slow at all, but some animations look a bit slow. The screen cannot be very bright, but it is still sufficient. The contrast is a bit flat. The automatic screen brightness switches back a bit when switched on, but can be adjusted manually. There is also a setting to leave the screen on when a face is detected. A point of criticism is that LG seems to apply some kind of filter, something that is especially visible with black text on a grey background. Text is then given a white border. It is difficult to detect, but it is present enough to perceive. All in all we are not at all disappointed in the screen but whether you really need that extra resolution is the question.
Menu
The LG G3 is equipped with KnockOn with which you can turn on the device by tapping it twice. Extremely handy for those who can't find the snooze button on the back. This works extremely well and fast, provided it works. During our test week, the device sometimes didn't recognize it or it recognized it too late. Maybe it's just a matter of getting used to it, maybe a future update will help. There is also KnockCode which you can use to tempt the device with a touch pattern of your own choice. This works very well and is an idiosyncratic alternative to fingerprint recognition, for example.
".
Once on, we are pleasantly surprised by the quiet contemporary interface. The colors are not that loud anymore and the icons are mature, modern and consistent. Much better than previous versions of the Optimus UI.
".
The home screen has several screens with space on the far left for what LG calls 'Smart Bulletin'. There are two widgets; one for LG Health and another for Smart Tips. LG Health keeps track of various fitness information such as a pedometer. More annoying is Smart Tips that comes with well-intentioned but unwanted suggestions every now and then. Fortunately, you can turn it off, although you'll need to dive deep into the settings menu to do so.
".
At the very bottom of the screen you will find the virtual Android control buttons. You can customize these layouts to your own taste. You can choose from up to five touch buttons at once: Back, Home, App Overview, Notifications, QuickMemo, QSlide and Dual Window. The bar is available in white and black with transparency.
".
There are a row of shortcuts to up to six apps at the bottom of the home screen. If that's not enough, you can also use folders. The middle button is for opening the app drawer. You'll see a list of installed apps that you can sort by alphabet, download date or in your own format. By default, a grid of 5 by 4 icons is shown. These are already quite large, but you can show them even larger. If you choose for this, you will get an overview of 4 by 5 icons. If you change between them, you can completely reset your manual layout. Fine.
If you're not a fan of the standard theme, you can always look for nicer ones in the LG Smart World. These are free of charge but require an account.
".
At the top of it we find the status bar containing the notifications. LG uses relatively large icons which makes the bar fill up very quickly. And because icons are also used for trivial things like save mode and silent mode, the whole row will be full of icons before you know it. Once unfolded, it becomes a lot clearer. At the top there are switches for things like WiFi, vibrate mode, screen rotation and NFC. You can scroll through them and you can turn off unused switches so that they are no longer shown. Beneath all these switches is a slide for screen brightness and volume. Unlike many other LG phones, these can simply be turned off. Only below that, from about 40% of the screen, the messages are shown. But it can be even worse if you have QSlide and/or Quick Remote shown. Then three quarters of everything on the notification screen is swallowed up by switches and shortcuts.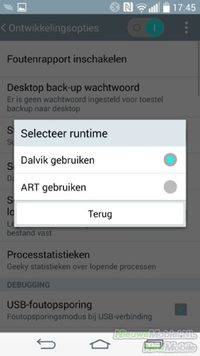 From Android L it will be standard but at the moment we are still attached to the Dalvik-runtime. This translates the source code into machine language every time you open an app and that takes time and is extremely inefficient. There is a new runtime that does it differently. This runtime is called ART and it translates an app largely in advance. It takes a little more time to install, but then an app runs faster. With the LG G3, you can already opt for this faster ART runtime, something that is not yet possible with Samsung TouchWiz phones. We have used it successfully with the G3 and are very satisfied with it. Apps on the G3 run incredibly fast.
Phonebook
There are separate icons for calling and contact overview but they both go to the same app. That's how we like it. At the top there are several tabs for calls, contacts, favorites and groups. You can change this layout yourself and leave out favorites and groups. You can also switch between tabs by swiping across the screen. Just like Google intended for Android.
".
Different accounts are neatly merged and displayed in the address book. There's nothing to complain about at all. You can even display the address book as a QSlide widget. We're not really fans of it, but you can easily minimize it to the right side. They then change into a single icon that opens as soon as you click on it. That will come in handy again.
Messaging
Where the bubbles and contacts app is green, the texting app is sandy. This way, if you're not colour-blind, you can see at a glance which app you have in front of you. The app for texting is further as we are used to it; fine. So we're not going to dirty any more words about it. The keyboard, on the other hand, is more worth discussing.
".
The five-row counting keyboard is highly customizable. For example, you can arrange the bottom row of buttons, you can remove the numeric part at the top, you can choose from a black and white theme and you can even select the height of the keyboard. Big for big fingers, small for small hands. There's also auto-correction, word suggestion, and path input that lets you enter words by swipe from letter to letter. To our surprise, the latter also works quite reasonably well. Unfortunately, this so-called path input does not work everywhere, as in some 3rd party apps.
".
In addition to an excellent keyboard, SMS application and the Gmail app, there is also an email client of its own. The settings of most accounts are entered automatically and you can choose from different types of synchronization. This app is also well taken care of.
Connectivity
By default, the settings menu shows WiFi, Bluetooth and Data connection. More exotic settings such as NFC, Android Beam, DLNA and Miracast are shown under 'Share & Connect'. To turn your G3 into an internet hotspot, look under 'Tethering & Networking'. Here you will also find the flightmode and VPN settings. As far as we are concerned, this format is fine so that novice users will not be confused with incomprehensible functions.
".
The built-in internet browser leaves a positive impression on us. For example, controls such as the address bar and navigation keys are automatically removed as soon as you scroll down. Simply scroll up and they will become visible again. So you can browse fullscreen without having to go to the trouble of doing so. Want to quickly get back to the top of the page? Use two fingers to scroll either to the beginning or to the end of the page in a single movement. In addition to your own browser, Chrome is also available. Both browsers don't avoid each other very much, except that their own browser can also be shown as a QSlide widget.
Camera
The year 2014 seems to be dominated by autofocus. Where competitor Samsung chooses 'Phase Detection', LG chooses a built-in laser. The choice was made after the company's robotic vacuum cleaners successfully used the laser to estimate the distance to objects such as walls. This worked so well that LG also used it in its flagship phone. The result is impressive, even in fairly dark conditions the G3 quickly focuses, something that other smartphones are often very bad at. Another plus lies in the improved optical image stabilization. Competitors such as the Galaxy S5 and the iPhone 5s are missing out.
The interface has been kept reasonably simple. The settings are hidden under the cogwheel icon. Here you can set things like HDR, resolution and timer. You can also find the activation of the voice control here. You can take a picture by saying "tjiez", "smaajl", "whisky", "kemtchi" or "el djie". The different scene modes such as magical autofocus, panorama, dual and automatic can be found under 'mode'. With the first one you can shoot photos where you can change the focus later on. That sounds handy, but you have to choose the focus immediately after shooting the picture and save the result. So you can not later adjust the photo again.
Finally, there are also settings for the use of the front-facing camera and the flash. In the HDR mode it is turned off by default. Still use the flash? Then you have to select the automatic HDR mode. The highest resolution for photos is 4,160 x 3,120 (13 megapixels) and for video it is 3,840 x 2,160 pixels (4K UHD). Interestingly, there is also a slow motion mode that records 120 frames per second. Funny though, the function doesn't work well in poorly lit conditions.


Click above for more sample pictures of the G3
Shot pictures are very good and also video is well taken care of. The advantage of the laser autofocus is clearly noticeable and the level of detail you can capture with the G3 is impressive. Colors are also good and the HDR works fine, although we have seen better. Curious to see some sample pictures? Then click on the picture gallery above.
Existing programs
A dry list of the pre-installed apps is; Calendar, Messages, File Manager, Camera, Cell Broadcast, Chrome, Contacts, Email, Gallery, Settings, Internet, Clock, Maps, McAfee Security, Music, Play Store, Phone, Update Center, Voice Recorder, Weather, YouTube, Box, Calculator, Downloads, Google, Voice Search Dr., Gmail, Google+, Play Music, Play Movies, Play Books, Play Kiosk, Play Games, Drive, Photos, Hangouts, Google Settings, FM Radio, Quick Remote, QuickMemo+, RemoteCall Service, SmartWorld, Tasks and ThinkFree Viewer.
".
They said it before, but the most important apps have their own unique color by which you can recognize them. Calendar is red, Messages is sand yellow, Contacts is green, Music is purple and QuickMemo+ is brown. These main colors also appear in the respective apps. The other own apps have a gray-blue color.
".
Useful is the Update Center. Here you can update not only the firmware but also the pre-installed applications. Shortcuts to other parts of the system are useful, but it is now in one place. The QuickRemote app is also present again. The built-in infrared transmitter allows you to simulate a remote control for your TV, set-top box and audio system, among other things. You can also put together a universal remote control so that you can use it to control your air conditioning, if necessary. The setting aid is easy to understand and many devices are pre-programmed. A matter of trying it out. If you have an LG Smart TV from 2012 or newer then you can use Magic Remote, but also if you have a non-LG TV at home QuickRemote is very useful.
".
You can get rid of creative excesses in QuickMemo+. Whether it's texts or drawings. You can also shoot photos or import existing ones, provide them with doodles and possibly share them with others. Fun but no more than that.
".
Hidden in the settings menu is a fun function called 'Smart cleaning'. This option scans which files are superfluous and which apps are no longer used. You can then delete them. In our cases it was often about 500 MB(!) so it is definitely worthwhile to run this tool.
Conclusion
Ergenically, the LG G3 makes us very happy. The company has done its utmost to create a distinctive phone. Every part and every detail has been thought of. The question is not so much whether LG has succeeded in this, the question is whether LG has gone through with it. Although a Quad HD screen is the wet dream of every gadget freak, whether it really works in practice can be seen. On the downside is that the device has become quite substantial, which will bump into some future buyers. Nice is that LG has made an emotional compact phone despite that, all in all the LG G3 remains a big phone. A phablet perhaps?
Also, the G3 sometimes seems to choke on animations. Where it comes from is not clear to us, there may be too many pixels to control, more likely it is a software issue. Apps run incredibly smoothly and quickly. The camera and its laser autofocus deserve all praise. It is an innovative and creative solution that simply works very well in practice. Especially video benefits a lot from the continuous and fast autofocus.
It is clear that the LG G3 is a flagship. One that has received a lot of attention and you can see that again. The design is simply beautiful. And the price is very competitive for a flagship. In the end the LG will bring in a lot of new buyers and the G3 will probably do even better than the G2. Somehow we think that if the G3 had been a bit smaller that success would have been even bigger.
---
---
Questions and answers about this LG G3 review