Last week we had a Nokia Lumia 900 in our pocket. We have lived with it, phoned, interneted, played games, ... it even went to bed with us! By now we have a pretty good opinion about Nokia's top model running on Windows Phone 7.
Because the high-end Nokia's that are currently rolling off the band are all running under the rapidly growing Windows Phone platform. Despite the rapid growth, it still lags behind its competitors in absolute numbers, such as iOS from Apple and Android from Google.
The fact that Nokia is doing things completely different from now on is not only evident from the choice for the OS. This Lumia 900 was first launched in the US. Europe, where Nokia itself comes from, had to wait. By the way, the USA launch did not go smoothly. The first copies showed software problems that Nokia solved with a bugfix and discount.
Windows Phone looks very promising and many new apps are added every day. However, can it keep up with the fast-paced pace of Android and has it caught up with iOS? We'll find out. And despite the fact that almost all but the hardware of all Windows Phone phones are the same, in this review we mainly focus on the screen, camera and the apps Nokia has added itself.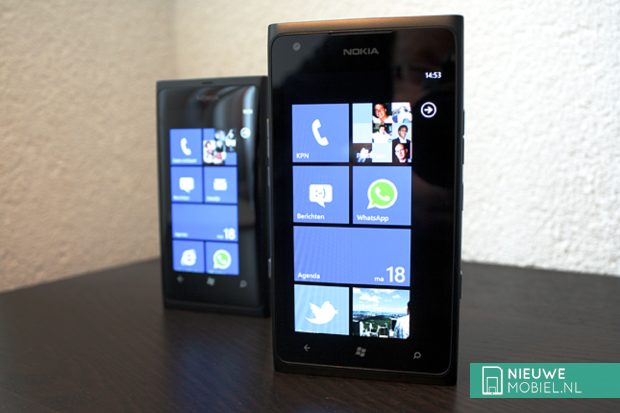 ---
What's with the device?
We received the Lumia 900 in a double blue box. Once opened, the device is neatly wrapped in plastic you gape at. In addition to the device, the box contains some documentation, a headset, data cable and a futuristic round plug. It is practically the same box in which the Lumia 800 was packed, but slightly larger. The only difference is that it comes with a simslot connector. With this you open the simslot opening so you can place your microSIM.
Appearance
The Lumia 900 is the first Nokia to have a modern 4.3 inch screen and is therefore more powerful than many other Nokia. Especially when you place it next to the smaller Lumia 800, you can clearly see the larger size. This offers advantages, namely a larger screen, but it also has disadvantages. For example, it is difficult to reach the back button on the far left at the bottom of the screen with your right hand. It almost looks like the Lumia 900 is made for left-handed people. There's nothing wrong with that, there are only a lot less of them than right-handed people.
The Lumia 900 fits completely in the Lumia family and is very similar to the aforementioned Lumia 800. The screen is only in contrast to the 800 not spherical, but just flat. At first glance, this seems a pity because it was a beautiful aesthetic feature of the 800. However, we are glad Nokia didn't do it with this 900, because a bulge would have made the phone very thick. We do find it a pity the small edge around the screen. This is reminiscent of the N8 and is a collection point for dust and dirt. Luckily the edge doesn't protrude very much. At the top of the screen we find the speaker that is hard to find with your ear. It has to be right on top of it because otherwise you won't hear anything at all. Below the screen are the touch-sensitive control buttons. They are illuminated in white, although it is more yellowish in colour. And the Windows logo isn't lit evenly either. It may sound a bit nagging, but it seems a bit sloppy.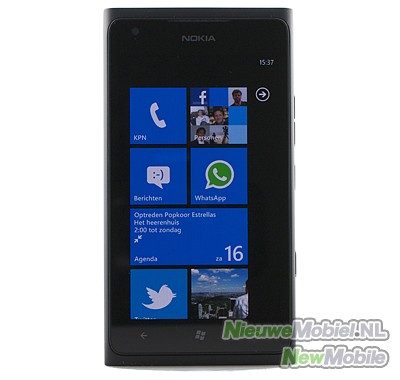 ".
On the back almost the same layout as with the Lumia 800. The flash is now only next to the camera module instead of above it. It seems to be the same camera module as the 800. Also the sides have the same layout as its smaller brother. On the right the volume buttons, snooze button and camera button. On the left is nothing at all.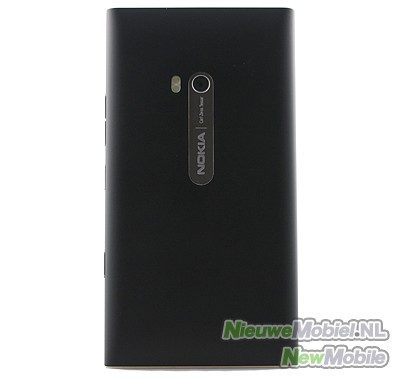 ".
On top it looks at first glance also like a Lumia 800, so again an aluminum edge around the audio jack connection left. Biggest change is that the microUSB connection is no longer behind a flap. And that's handy, because the Lumia 800 still fails sometimes and is also more difficult to open in the dark.

".
The material of the Lumia 900 is not as smooth as the 800 but has a slight relief. This makes it feel less plastic-like and more metallic. Stains are also less noticeable. You can't change the battery yourself and that too has its advantages. Nokia is able to make a sturdy unibody that gives the phone even more strength.
Endurance
An advantage of a larger phone is that it fits a larger battery. At 1830 mAh, the battery is not small, but today's top models of the competition have larger ones.
".
And even though the Lumia 900 comes with a whole battery saving program, the endurance of the Lumia 900 is somewhat disappointing. It will make it through the day, but we actually expected more. Even on the days when we left the plane pretty much alone it was practically empty at the end of the day. Apparently the larger screen is still slightly more than we had thought before. And that while Windows Phone-telephones in airplane mode can easily last a good week.
Call quality
Just like with the Lumia 800 we are very happy with the bell quality of this Lumia. The sound is extremely clear and also in terms of volume nothing falls short. Of course nowadays you hardly ever sell phones because of the excellent call quality alone. This Lumia must therefore have more than just that.
".
We find the way of answering calls a bit cumbersome. When you receive a call you have to slide up the lock screen. You then think you're taking a call, but instead you get a button to answer it. That redundant option may take some of us away.
Display
As discussed, the Nokia Lumia 900 has a generous 4.3-inch ClearBlack non-PenTile AMOLED display. Usually we see the difference between TFT and AMOLED, but this time we had to check it out. That is not in favor of this Nokia. The Lumia 900 has the usual resolution of 800 by 480 pixels for Windows Phone. That gives a PPI of 216 at 4.3 inches. That is considerably less than the 312 of the HTC One X, the 341 of the Sony Xperia S and the 329 of the iPhone 4S. And you can tell the difference, especially if you've worked with such Retina-like screens before.
Nokia can't be blamed for this much, Windows Phone can't (yet) handle higher resolutions. Windows Phone 8 is going to change that, but this Lumia 900 doesn't run under that.
Menu
Anyone who has read our reviews of Windows Phone phones will know that we are quite a fan of WP7's user interface. It's different, slick, looks good and just works very well. And despite the relatively young platform, there are quite a few apps available for it, including our own NewMobile app!
".
However, there are some things that start to irritate in the long run. For example, it sometimes takes some time before applications are started. The 10 beats it took on average for the Facebook app to start up was no exception. You just notice that many apps are still in their first version. Not that iPhone and Android apps were better in the beginning, there was enough to note. But they have been improved and optimized so much in the meantime and you immediately notice the advantage of the competition. By the way, Apple has a trick to fool you: it loads apps quickly. When you open an app, an image is loaded first, then the app really loads. Microsoft doesn't do that, and that sometimes gives you the feeling that it's all a bit slow.
".
Of course it doesn't help either that Windows Phone only supports single core processors for the time being. Not even if the Lumia 900 is clocked at 1.4 GHz. No doubt that an extra core will improve this. Besides, the OS itself is not slow. The operation is 'instant', and Android can learn something from that.
Phonebook
This integration with social networks is also reflected in the phone book. Especially the overview with status updates of all your contacts (or just a part of them) is very handy. For each contact you can easily view the latest content such as photos, missed calls and status updates.
".
The standard address book is the most beautiful of all mobile OSes. Contacts from almost all linked accounts are conveniently grouped and searchable. With standard out-of-the-box support for Twitter, Facebook and LinkedIn you are quickly on the road. This goes further than messages sent via that platform, it also includes, for example, photos.
Messaging
When it comes to messaging, there is little to complain about. All native apps work excellent, offer sufficient possibilities and look good. Moreover, the virtual keyboard is one of the best on the market. As with Apple, you can't choose another keyboard, but that's not necessary at all.
".
You send text messages as a conversation and for every email account you add, an additional app icon will appear in the menu where you can read and send email for that account. Windows Phone supports many types of accounts, including the social networking sites Facebook, Twitter and LinkedIn. There's no need to install the apps on their own, but it does help if you want some more features.
".
You can post status messages from the OS to one or all logged-in accounts, and that really sets Windows Phone apart from other mobile operating systems. A definite plus.
Connectivity
The Lumia 900 has almost the same connection possibilities as the Lumia 800. Of course there is WiFi and Bluetooth and the possibility to use the Lumia as a mobile hotspot. Once switched on, up to 5 clients can be connected.
".
We are very pleased with the built-in web browser. Especially the location of the address bar is actually quite logical; namely at the very bottom and therefore right under your fingers. Unfortunately, Internet Explorer sometimes wants to confuse the layout of pages, but in general there's not much to be said about IE. When you open a desktop webpage, IE tries to recognize the most important text and displays it enlarged. Sometimes it's a bit wrong, but again, the browser is certainly not disappointing.
".
Camera
Where manufacturers are not allowed to change almost anything to the Windows Phone OS, with such phones we often have to rely on the hardware. One of the ways to excel is the camera, for example. Nokia has equipped the Lumia 900 with an 8 megapixel camera, just like high-end competitors of Samsung and Apple.
The camera interface is nice and clean and simple. Still, you can set things like resolution, different scenes and effects. We continue to love that you can find shot photos on the left side of the interface and that there is a physical camera button present. Unfortunately, the positive words remain because the camera itself is quite disappointing. Not that it is bad, but for a high-end model from 2012 from a reputable phone manufacturer, you can expect a bit more.

Photographs are, just like the Lumia 800, fast moving and there is no image stabilization that tries to prevent that. Moreover, we are missing an HDR function. Had this camera module been in a 2010 model we would undoubtedly have been full of praise but in 2012 it ends up at the bottom of the middle section.
".
Nokia has taken the trouble to expand the meagre functionality of the camera app with a separate own app; Creative Studio. This can be downloaded from the Marketplace and offers some extra and fun features. For example, you can apply real time effects such as 'night vision' and 'cartoon'. Unfortunately this is so slow that the fun is quickly gone. Therefore it is better to take a picture first and edit it later. Fun effects are available to change faces and to take a panorama picture.
".
Existing programs
If you want a detailed description of which apps are standard on the Lumia 900 we recommend you to read the review of the Lumia 800. We limit ourselves in this review to the additional apps Nokia has developed itself and makes available free of charge. You can find them under the Nokia Collection in the Marketplace. They include Nokia Maps, Nokia Drive, Nokia Music, Nokia OV and Nokia Trailers. There are also some help apps that allow you to set up mobile networks and transfer contacts, but let's leave it at that.
".
Nokia Maps is actually the Google Maps of Windows Phone. WP7 does contain its own Maps app based on Bing information, but Nokia's app is much better. Nokia Driving is a Dutch spoken turn-by-turn navigation system with free worldwide maps that are available offline and now also has speed alerts. Anyone who tries to compare it with Google Navigation Beta is deceived; it is much better! It is almost unbelievable that this is delivered for free.
".
Then there is also Nokia OV app with which you can plan a public transport ride. Unfortunately there is currently only support for the cities of Amsterdam and Rotterdam.
".
Stay tuned to Nokia Music and Nokia Trailers. To start with the latter, you can view and download movie trailers for later viewing. Nokia Music is another app that makes you wonder how it can be for free. Besides a music shop, you can also listen to all kinds of music for free. Under Mix-Radio you will find all kinds of genres including pop, rock & metal and even Dutch. Once you've chosen, you'll get a playlist that you can even download. All for free! You can even let him guess your taste in music so he can compile a list himself. It may want to give you some funny results but it works pretty well.
".
The last app we want to discuss is Tango Video Calls. Unlike the 800, the Lumia 900 has a second camera for video calls. Because this functionality is not (yet) standard in the OS, Nokia makes this app available that is also available for Android, iPhone and the PC, in addition to Windows Phone.
Games
By default there are no games on the Lumia 900, but you can download all kinds of games from the Marketplace, both free and paid. They disappear under Games that have a close integration with Xbox LIVE. You can also create your own Avatar to which your scores and achievements will be linked.
".
Conclusion
We have a mixed feeling at the end of this review. It must be the top model of Nokia, but it's just not. Although the ClearBlack screen is beautiful, the resolution is insufficient. Windows Phone works wonderfully smooth and innovative, the available apps are not mature yet and basic functions such as a screen rotation lock are missing. The camera sensor is not low at 8 megapixels, but photos often lack sharpness and also functions such as HDR. In the end, the competition currently has better phones.
Nokia understands that and tries to convince you with things like free music and navigation. Because of this, you get a lot of value for money. So the Lumia 900 is an interesting option after all. What remains is that not everyone walks around with a Windows Phone, so you don't become such a grey mouse with an iPhone or Samsung Galaxy.
We secretly look forward to the new Windows Phone 8. The way it looks now, that version won't come out for this Lumia 900. Of course, much needed improvements in the OS can still be made in a maintenance update but we don't have much use for that right now. Nokia is currently more troubled by the choice for Windows Phone than it benefits from it. And that was just not the intention.
---
---
Questions and answers about this Nokia 900 review