Nokia Lumia 920 review
King of Windows Phone 8?
---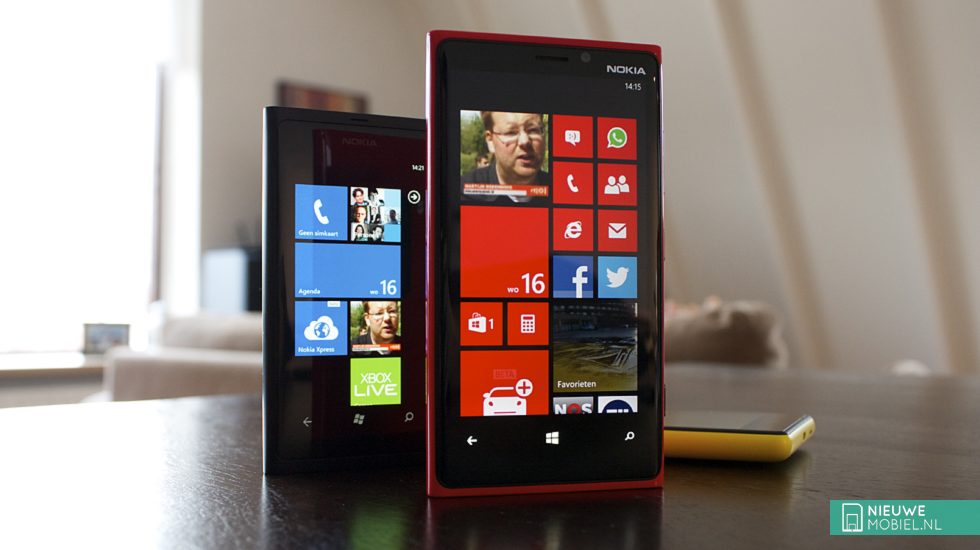 In front of us is the Nokia Lumia 920. We may say Nokia's first Windows Phone to go with the top and compete for prizes.
However, it is not Nokia's first Windows Phone, far from it. Still, the Lumia 800 was one size too small and the Lumia 900 more of the same in a jacket that was too roomy. It wasn't Nokia alone that couldn't keep up with the competition.
It was also largely Windows Phone. But with version 8 and top-of-the-line hardware, the cards were shuffled again. That is why the Lumia 920 is now finally up against the big guns of Samsung, Apple and HTC. How does the 920 hold up against, for example, the iPhone 5, the Galaxy S3 from Samsung and the HTC One X+? And is it worth the extra investment compared to the HTC Windows Phone 8X? We tested a bright red Lumia 920 with the Portico update (8.0.10211.204 and firmware 1232.5951.1249.1002).
---
What's with the device?
Nokia's boxes are starting to look very similar and so is this one. Inside is the unlocking tool so you can insert the SIM card. Underneath is a small box with documentation in both English and Dutch. Underneath are the charger, a microUSB cable and an in-ear headset in the same beautiful red color as the phone.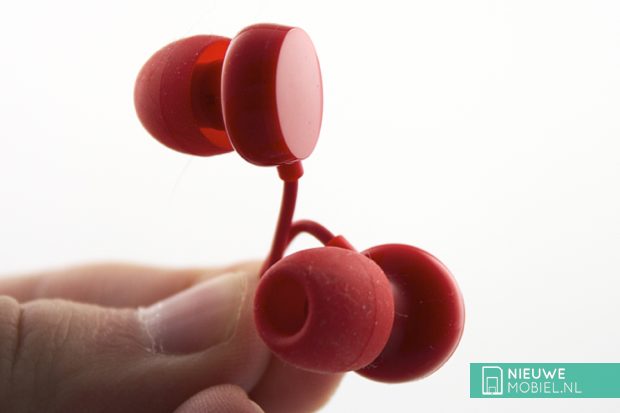 .
The shape of the earplugs is a bit peculiar and protrudes quite a bit. This largely negates the in-ear character. By the way, it makes a good sound if it's in your ear. To ensure this, there are four different sizes of earplugs.
Appearance
We were already fans of the appearance of the Lumia 800 so it's no surprise that the largely unchanged appearance of the Lumia 920 also appeals to us. The screen is slightly curved at the edges and covers most of the front. Just enough to leave a border for the pronounced color palette in which you can get the Lumia 920; yellow, red, black or white. We received a Ferrari-red Lumia 920 on loan from Nokia. And although we wouldn't choose this colour easily, you will appreciate it more and more in the long run. You will stand out among modern smartphones that are often 'safe black' or 'modern white'.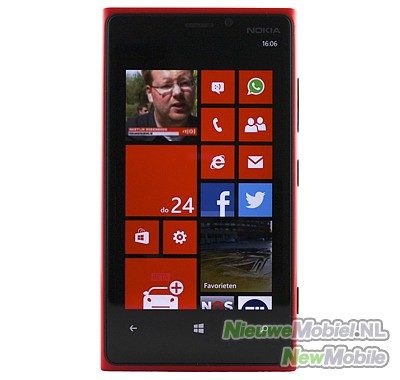 ".
At the top, still in the screen, there is a notch for the speaker with on the right a camera with which you can make HD video calls. At the bottom are the three familiar Windows Phone buttons; back, home and search. To the right of the device are the volume buttons, the power and snooze buttons and at the bottom a camera button respectively. The snooze button lies a little deeper in the device than the other buttons to prevent unintended use.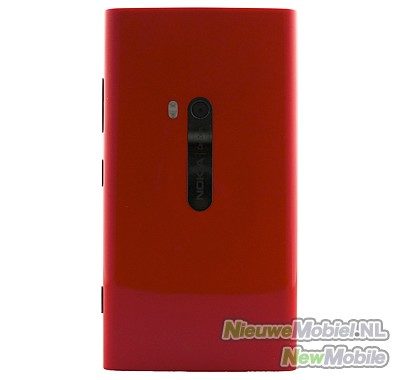 ".
The rear side is equal to the Lumia 900 with the biggest exception being the 8.7 megapixel camera module with Carl Zeiss lens and PureView technology. More about that later, of course. The metal strip is no longer silver-coloured but is now dark and scratches less quickly than its predecessor. The left side is button-free.

".
On top right in the middle an audio jack connector, a microphone to filter background noise and a tray for the microSIM. To open these, you need to use the supplied unlocking tool to pierce the hole. You then slide your microSIM card into the tray and insert it back. At the bottom there is a microUSB connection in the middle with a loudspeaker on both sides. And despite the fact that the Nokia Lumia 920 has a unibody and it is not possible to just replace the battery yourself, there are subtly a few screws at the bottom.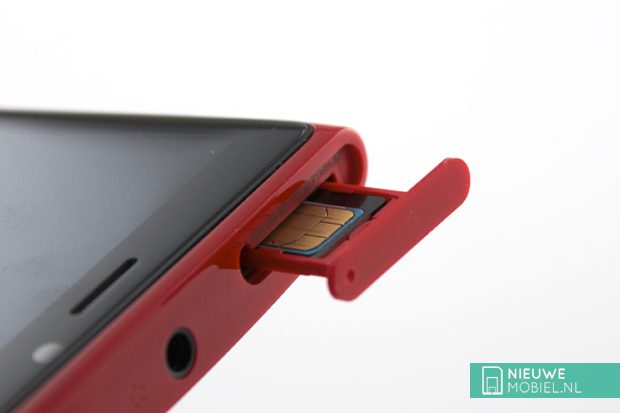 We appreciate the bold colour palette in which Nokia is releasing the Lumia 920. The timeless industrial look is also very much appreciated. However, the Lumia 920 is on the heavy side, is not the thinnest and the plastic looks quite cheap, especially at the ends. Nokia calls it polycarbonate by the way and it's honest; it doesn't scratch easily. By the way, you get used to its weight and thickness quickly.
Endurance
If the simpler Lumia 820 still had a hate to love ratio when it comes to the battery, the Lumia 920 is the perfect example of how it should be. Under normal circumstances you can easily make a day, and with moderate use you can even easily make two. That's exceptionally good for smartphone terms.
".
If all this is not enough, then there is the battery saving function, the possibility to set the screen brightness low and reduce the number of background tasks. There is also the possibility to charge the Lumia 920 wirelessly. For this you need a separate accessory that comes standard with some providers. Wireless charging is a bit overhyped, but it does save the corded fiddling.
Call quality
There's nothing on the bell quality at all, but who's calling today? We have been looking forward to VoIP integration ever since Microsoft acquired Skype. You still need to download the Skype app, but as of version 8 of Windows Phone, you can now also receive calls when the app is not active.
".
The app works the way you expect it to, and the Metro look of Windows Phone has been used nicely. The only pity is that you can't change the frame in which you see yourself. Furthermore, it is a very useful app.
Display
At 4.5 inches, the Lumia 920's screen is the largest in the Nokia range and the first to use a WXVGA resolution (1280 x 768 pixels). This is the highest resolution Windows Phone 8 can currently handle. The marketing department has given the screen the name 'PureMotion HD+', which is a collective name for various techniques. One of them is that the touchscreen is so sensitive that you can even operate it with gloves on. This claim is not exaggerated and is easily substantiated. Even a spoonful will do. Another feature of PureMotion HD+ is to counteract motion blur and improve visibility outdoors. Nokia explains it itself in this video.
The screen of the Lumia 920 is good, and certainly one of the best in Nokia's range. Still, it's not the best we've seen. In terms of sharpness, it is more than fine with a PPI of 332, but in terms of contrast there is room for improvement.
Menu
We have already described a large part of the new Windows Phone 8 in our Lumia 820 review. That's why we're not going to repeat much, and fortunately for those who already know Windows Phone we don't have to. It's very similar to its predecessor. The biggest change for the user is that you can now resize tiles. Another big difference is that apps start much faster. For example, if the Facebook app on the Lumia 800 took a few seconds to start up, the Lumia 920 will shave off a lot of that. It's not as fast as the iPhone apps start up, but it's become a lot more acceptable.
".
Also changed is the lock screen. You can now let several apps change the background. For example, you can let Facebook display your photos there. Even as a user, you now have more say. You can choose apps that can display status information, such as missed calls, received text messages, or Skype information. There's room for five different sources of information. What's more, you can select one app that can display more extensive information. For example, if you choose 'Calendar', you'll get information about upcoming appointments and events in bulk.
".
Also for parents with children there is something new; Play corner. Handy to keep your child sweet but don't want to give him or her unlimited access to your phone. When switched on, you have a separate environment in which you decide what is allowed. For example, you give access to certain games and apps. It's not yet a multi-user environment, but it looks a lot like one.
".
Phonebook
Little has changed in this area, you can still add contacts and follow via all registered social networks. New, however, are the groups and rooms. Groups are a collection of contacts so you can, for example, send a group message.
".
Rooms look like that but go a little further. Here you can not only share messages but also photos, agenda items or notes. Participants do not necessarily need a new Windows Phone 8, an iPhone or older Windows Phone 7.x is also sufficient.
Messaging
Sending messages is also virtually unchanged. Only a few settings and emoticons have been added. However users with a Gmail account who set up a Windows Phone 8 after January 30th 2013 will notice that the Exchange ActiveSync support won't work anymore. From then on you will be forced to use IMAP which does not support push. Synchronizing calendar and notes will no longer be possible at all.
".
Microsoft recommends Outlook.com, but for many it will not be an option. Meanwhile, Microsoft has announced that there will be an update with support for Card- and CalDAV, but this update can take at least another six months.
Connectivity
The Lumia 920 also has NFC. Instead of NFC, Microsoft has immediately created a usable application for it called 'tap & send'. By holding the device against another Windows Phone with NFC, you can share photos, websites and contacts via Bluetooth.
".
Together with Windows Phone 8, Data Sense was also announced. A handy tool to keep track of your data consumption and even reduce it. To keep a long story short, that doesn't work on Dutch models. Nokia does have the Xpress Browser in store for you with which you can download compressed websites, similar to Opera Mini. This allows you to surf the internet with less data.
".
The Nokia Lumia 920 is one of the few phones available today with 4G support (bands 1, 3, 7, 8 and 20). Precisely because of this relatively wide band support, there is a good chance that the Lumia 920 will soon be supported by all operators. Maybe not today, but later or next year. By choosing a Lumia 920 now, you are already ready for the future.
".
Nokia seems to have added some apps with which you can edit mobile internet settings (access point). Also network settings (network+) that allow access to put calls on hold do not appear to be standard Windows Phone 8 settings.
Camera
By far the most important part of the Lumia 920 is its camera. Nokia managed to surprise everyone in early 2012 with the 808 PureView with its immense 41 megapixel sensor. Nokia did little to hide the fact that the PureView technology would also come to Windows Phone, and the Lumia 920 is the first in hopefully a long series. The camera resolution has been reduced from 41 to 8.7 megapixels, which suggests that the quality of the 808 PureView is not as good as that of the 808 PureView. Moreover, Nokia's credibility was dented when it turned out that the promotional videos that were supposed to emphasize the camera quality had been staged. We became even more skeptical when Nokia did not allow an extended hands-on after its introduction in September 2012. Did Nokia leave something behind?
".
Once the first night shots came in, all those doubts quickly disappeared. In low light situations, the Lumia 920 still shoots great photos with an unprecedented sharpness for a mobile phone that we previously only saw with more expensive point-and-shoot cameras. We are not exaggerating when we say that the Nokia Lumia 920 opens a new era for camera shots and will be the further suppression of point-and-shoot cameras.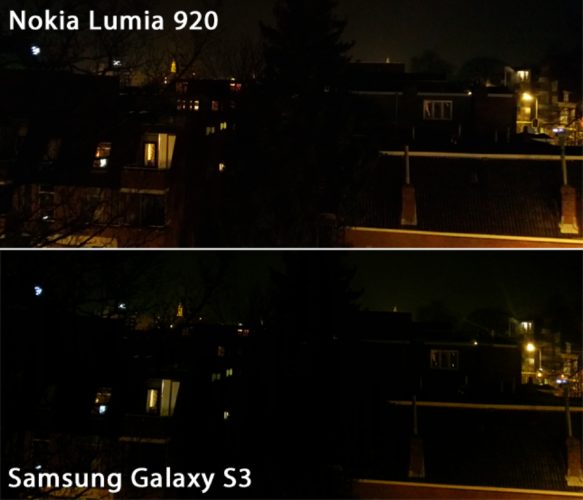 .
Moreover, the interface is nice and simple with relatively few settings. The Lumia 920 does all the work for you. For example, if we take a picture at night, we immediately get a good picture. With the Samsung Galaxy S III we first have to force the night mode to get acceptable images. You don't have to be in automatic mode. And that simplicity in combination with the quality of the pictures is a huge advantage of the Lumia 920. However, the colours of photos taken during the day are very warm and therefore not very realistic. We even had the Portico-update which should improve the quality of photos in daylight enormously. In a comparison between the Galaxy S3, Lumia 920 and Nokia N8, the Galaxy S3 seems to come out surprisingly as the winner. Still, with the Lumia 920 we make more beautiful photos in all different light conditions.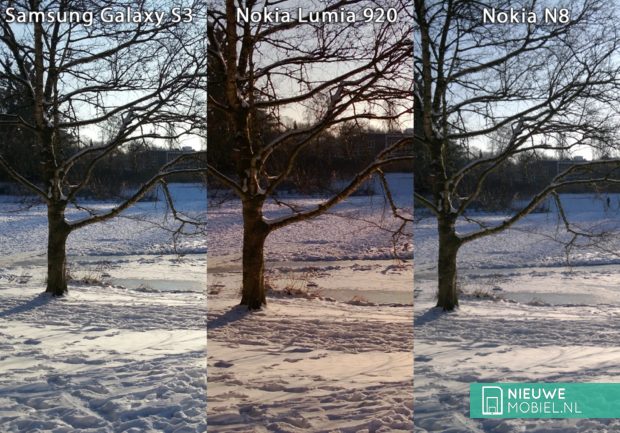 Click for large
By the way, the enormous light sensitivity also works when shooting video. This is done in maximum Full HD (1920 by 1080 pixels) and there is also image stabilization. Nokia applies a handy trick, as it has attached the camera module with springs. These already absorb some of the unintentional movements, which results in a less shaky video. Does this help? Yes this helps, tremendously. But why take our word for it when we give a demonstration. We shot the same video with the Galaxy S III to make a representative comparison.
Especially small movements are nicely concealed. The larger shocks, for example when you walk, you keep seeing in the end. If you make a little more effort to keep the device stable, they will be filtered out as well. By the way, the attentive user will see that the zoom buttons have disappeared. By the way, you can still zoom in by the pinch-to-zoom movement.
".
Nokia has also added some extra camera functions in the form of lenses. These are small apps that are integrated in the camera function. Standard available are Bing Vision, Panorama, Cinemagraph and Smart Recording. Noteworthy is Panorama with which you can take a number of photos into one. This gives varying results, which is important in order to follow the on-screen instructions very closely. Another is Cinemagraph, which allows you to create your own animated GIFs. With smart shooting, you can choose the most beautiful from a series of photos. In the Windows Phone Store, you will find many more lenses from different suppliers.

Existing programs
The advantage of Windows Phone is the close integration with Office. It is also standard on the Lumia 920. Word documents can be opened without having to download separate programs first. Even attachments from the mail are immediately included. And it's not just about viewing, you can also edit documents directly on your phone. And there's integration with Microsoft cloud service SkyDrive. In addition to Office, there's OneNotes for taking notes.
".
Another new app is wallet. This is where you store coupons, credit cards and memberships. If you have previously entered your credit card details on apps from the Store to buy, it is also listed here. So don't be alarmed. Apps can request access to wallet in order to make purchases. The idea is that you don't have to enter your credit card information unnecessarily often. We find it especially scary, but maybe we just need to get used to it.
".
Games
By default, Angry Birds Roost is on the Lumia 920, just like the Lumia 820 was. It's not about the game, but about a promotional app including videos and ringtones. Games can be found as usual in the Games hub. Link your Xbox Live account and create your own avatar and synchronize scores between your Windows Phone and Xbox.
".
Do you have an Xbox at home? Then download SmartGlass to use your Windows Phone as an extension of your Xbox. As a second screen, for example. That's how gaming on your mobile should be, and Sony and Apple can learn from that.
Extras
Nokia owners get a great navigation system for free and for nothing; Drive+ Beta. Despite the beta addition, it is one of the best navigation systems on the market and also free of charge. Soon the app will also be available on Windows Phone 8 phones of the competition and will therefore no longer be exclusive to Nokia phones. This is a disadvantage for Nokia, but on the other hand it is an advantage for the Windows Phone platform.
".
Something we won't see on non-Nokia's with Windows Phones for the time being is Nokia Music. It's a somewhat peculiar app that is difficult to summarize in one word. It's a music player, Spotify and Last.fm clone, concert calendar and music store all in one. You get this one for free too! And that means listening to music for free, as much as you want, wherever you want. You can download certain lists for offline use. Ideal for the music lover, and be honest: who isn't?
".
Conclusion
Nokia makes maximum use of the features of the new Windows Phone 8. It applies the maximum screen resolution of 1280 x 768 pixels, places a dualcore 1.5 GHz processor, places an 8.7 megapixel camera with the revolutionary PureView technology and even adds wireless charging. Nokia has pulled out all the stops and made that extra step.
So the question is not so much whether it's all enough. Nokia has done the maximum. It's just that Windows Phone is 'different' from other phones. The operation, the appearance, the how and what. And the question is whether people want something different right now. We love it, but not everyone is waiting for it. They are finally familiar and familiar with the operation of the iPhone and Android. It will take time for Windows Phone to stand out and be seen as an alternative. Of course, Windows Phone is currently showing impressive growth figures, but in absolute sales numbers it is still a bit disappointing.
Back to the Lumia 920. It is the top model of this moment under Windows Phone 8, without a doubt. Not only that, it can also compete against top models of the competition. In many ways, the 920 is even better, for example the camera with which Nokia is really pioneering. And there is also plenty of innovation, such as the sensitivity of the touchscreen and wireless charging. And whoever tries Windows Phone 8 quickly falls in love with it. Are you just willing to give up your current old trusted relationship for it?
---
---
Questions and answers about this Nokia 920 review