Samsung just announced the Galaxy S21, S21+ and S21 Ultra during an Unpacked event. 5G phones with a new design and improved camera.
The S21, S21+ and S21 Ultra weren't the biggest secrets. Information of the trio leaked frequently prior to the official unveiling. As such, those who followed all of that will hear little new. Still, the S21 family is a big step forward for Samsung. There are quite a few differences from last year.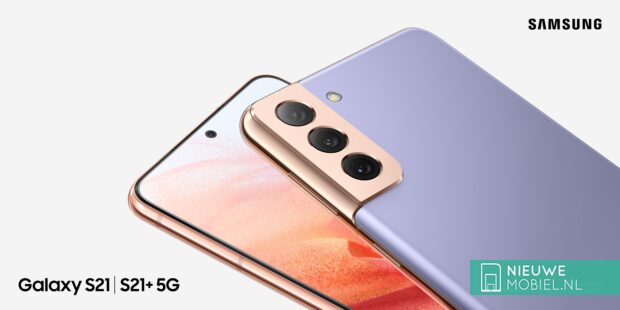 Starting with the Galaxy S21. It has a back made of polycarbonate, also called plastic. The press release doesn't mention this, Samsung rather talks about the new Contour Cut Camera housing. They mean the new design of the camera island. On the S21 5G, that's taken up by a 12MP wide-angle (f/1.8), 12MP ultra-wide-angle (f/2.2) and 64MP telephoto (f/2.0) with 3x hybrid optical zoom. The screen measures 6.2 inches in size and is of the Dynamic AMOLED 2X type. A special feature is the adaptive refresh rate between 48 and 120Hz.
Samsung Galaxy S21+
Those who want bigger can go for the 6.7-inch Galaxy S21+ 5G. Again, we find the same Full HD+ resolution as the smaller S21. In this, the S21+ differs from its predecessor which still had a higher Quad HD+ resolution. However, the battery is bigger this year: 4800 mAh. That in combination with the lower resolution should lead to a longer battery life.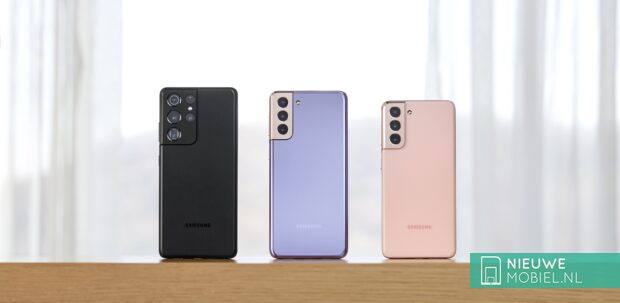 Camera wise not much has changed: a 12MP wide-angle, 12MP ultra-wide-angle and 64MP telephoto with 3x hybrid optical zoom. The back of the S21 Plus is made of glass. Other than that, expect the usual specifications like fast charging, wireless charging, Android 11 with One UI 3.1.
Samsung Exynos 2100
All Galaxy's announced today have the same processor: the Samsung Exynos 2100. In the US and Asia, the S21 series is sold with a Snapdragon 888. All these chipsets have in common that they are based on the same 5nm. This makes them more energy efficient and more powerful. The Exynos has a slightly higher clock speed of 2.9 GHz compared to 2.8 GHz of the Snapdragon, but in reality they will hardly differ. This is a good thing, because this was not always the case in previous years.
Samsung Galaxy S21 Ultra
What remains is the top model; the Galaxy S21 Ultra. For those for whom even the best is not good enough, Samsung has put all its know how into this device. The 6,7 inch screen can be used with an S Pen (sold separately) and has the highest resolution: 3200 x 1440 pixels. The 12MP ultra-wide-angle camera is joined by a 10MP telephoto (3x optical zoom), 2nd 10MP telephoto (10x optical zoom) and an impressive 108MP primary camera.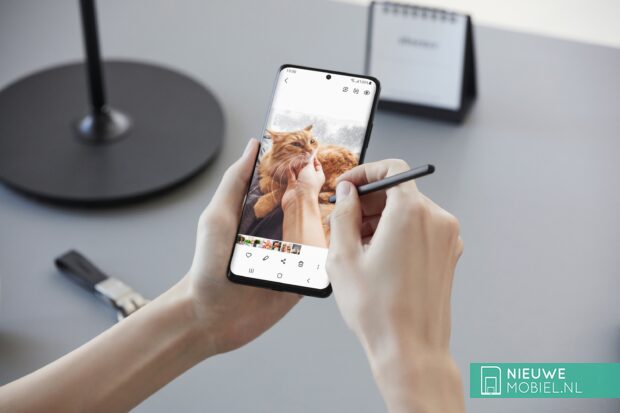 Here the same 5nm processor as the S21 and S21+ but with more RAM memory: 12 or 16GB instead of 8GB. The battery is a big 5000mAh and the new WiFi 6E is present. The front is protected by Gorilla Glass Victus. This is Corning's 7th version and it's sturdiest so far.
Prices and availability
Placing a preorder can be done after the presentation. Shipments start from January 29. Those who buy a phone in the period between January 14 and January 28 will receive a 50% discount on Samsung Care+. By doing so insures your phone for 2 years from accidental damage.
Prices for the S21 start at €849. That's lower than previous years. You get the 128GB storage for this, for 256GB storage you pay €899. You can choose from the colors Phantom Violet, Phantom Gray, Phantom Pink and Phantom White.
The S21+ starts from an amount of €1049. For this you get 128GB of storage. For 256GB you pay €1099. Available colors are Phantom Violet, Phantom Silver and Phantom Black. If you prefer Phantom Red or Phantom Gold, you can only get those at Samsung's own e-store.
Finally, the S21 Ultra is the most expensive of all. That one gets a suggested retail price of €1249 for the 12/128GB model, €1299 for the 12/256GB model and €1429 for the 16/512GB model. Available colors seem a bit limited; Phantom Silver and Phantom Black. In Samsung's own store it is still available in Phantom Titanium, Phantom Navy and Phantom Brown.
Early orderers will get a set of S21 and S21+ worth €139 with their Galaxy Buds Live order. S21 Ultra buyers will get the new Galaxy Buds Pro twv €229. Samsung also adds its new Galaxy SmartTag twv €29,99 to all models. With the latter, you can find objects like your bag or house keys.