Techmaniacs says it has obtained specifications of the OnePlus 9. This entry-level model from the 9 series will get a triple camera system consisting of a 50MP camera.
OnePlus has been pushing its cameras for a while now. For next year most of the attention seems to be on the OnePlus 9 Pro with its supposed Hasselblad camera. This OnePlus 9 isn't expected to get help from Hasselblad but instead from a 50MP camera sensor. This is not used as main camera but rather as an ultra-wide angle.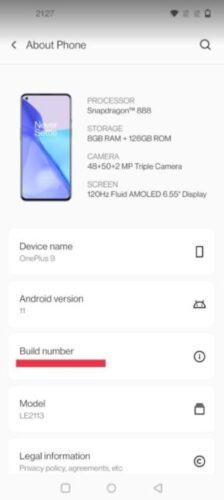 PhoneArena reports that it might be a new sensor that parent company BBK has developed together with Sony. We may also find this Sony IMX766 sensor in the Oppo Find X3 Pro
OnePlus 9 specifications
The primary camera still uses 48MP while the third camera doesn't get more than 2MP. Whether this is a depth camera or macro camera is still unknown. From the screenshot that Techmaniacs has unearthed, we further make out that inside is a Snapdragon 888 with 8GB of RAM and 128GB of storage. The 6.55 inch screen uses an AMOLED panel with a refresh rate of 120 times per second. So in this area there are no differences from the current OnePlus 8T
Three OnePlus 9 models?
Besides this OnePlus 9, a OnePlus 9 Pro and a third simpler model are expected. The name of which is not yet known. It would be the first time that OnePlus releases a simpler version of its flagship. Last year, OnePlus actually introduced the Nord series as a simpler choice.