Photos of a foldable Xiaomi phone have surfaced. The device bears the name 'Mix' which Xiaomi uses often for experimental phones. It doesn't look like an announcement is expected soon; Xiaomi's foldable doesn't look very production-ready yet.
If you want to join the big boys you really should have a foldable in your product portfolio. Or be working hard on one. Xiaomi clearly falls in the latter category. Images of a foldable Xiaomi Mi Mix foldable have leaked out. For now, it seems to be only a mechanism with a hinge. The screen, not entirely unimportant, is still missing.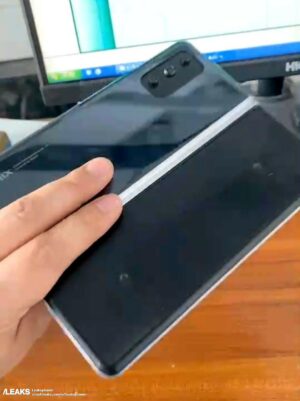 Interestingly, Xiaomi is also repurposing the name 'Mi Mix'. It was previously used for experimental phones that did things just a little differently. For example, the original Mi Mix was the first without any significant screen bezels, apart from the bottom. That trend continued until the Mi Mix 3 which was the first phone without a notch or punch hole. We are delighted to see Xiaomi is still experimenting, this time with a foldable housing.
Proven design
The next Xiaomi Mi Mix will have 2 equal parts that fold like inwards like a book. With this, XIaomi follows the same philosophy as Samsung with the Galaxy Fold. Huawei also uses the same design for its new Mate X2. It is unclear whether Xiaomi also wants to use a secondary screen on the front. The photos don't show evidence of this. Whether we will get an answer to this soon remains to be seen. This new Mix doesn't really look production-ready.
(via)