Just a few more nights of sleep and then the iPhone 12 is official. At least that's the expectation of a digital event that Apple has announced for October 13th.
In the invitation Apple just sent, we can read "speed". Striking because up until now speed is not something about the iPhone 12 thats been discussed. The intended processor however is, the Apple A14 Bionic but that's mainly because it also has to find its way to Apple's first computer with its own chipset. Just like previous Apple Keynotes, the event can only be attended digitally. It starts at 10:00 PDT or 19:00 CEST.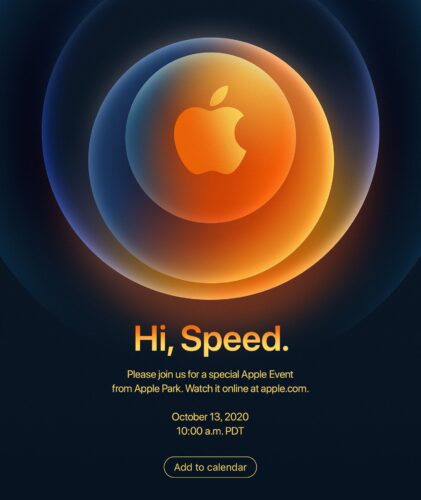 The new iPhone 12 series is expected to be announced at the event. It may consist of the iPhone 12 (6.1 inch), the iPhone 12 Pro (6.1 inch), the iPhone 12 Pro Max (6.7 inch) and perhaps the iPhone 12 mini. The latter is a completely new addition to the portfolio and should appeal to a new audience with an expected screen size of 5.4 inches. Or perhaps an old audience that had difficulty adapting to ever-growing iPhone sizes.
Not a revolution but an evolution
Not many spectacular new features are expected from the new generation of iPhones. For example, there will still be a notch with Face ID and it is expected that between 2 and 3 camera sensors will be present. This year will mainly revolve around bringing 5G support to the masses. Apple will follow other manufacturers with this, but they are not that late either.
New this year is a braided Lightning/USB cable that will be included in the box. This should make up for the lack of an adapter. Apple is abandoning it to save the environment. The idea behind this is that people already have a charger at home.