What do a replaceable battery, a headphone jack and a phone charger have in common? Samsung openly criticized Apple when the iPhone left these things out and then did exactly the same thing. And history repeats itself so it seems.
We're taking you back to October 13th, 2020. Apple had just announced the iPhone 12 and it came, quite surprisingly, without charger. According to Apple you probably had one anyway and not putting one in the box saved the environment a lot. Samsung immediately mocked Apple and placed the message below on its Facebook page.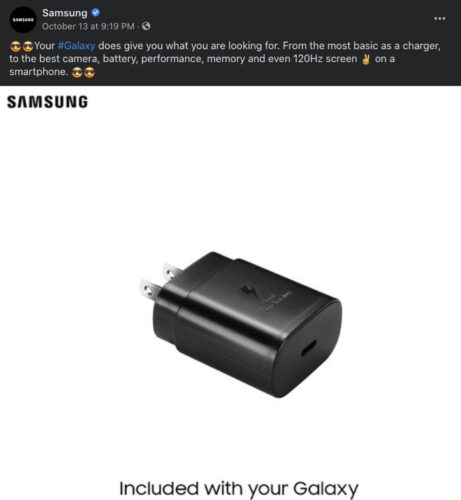 But now that Samsung is considering selling the upcoming Galaxy S21 without a charger, this kind of criticism comes back like a boomerang. And that is why it has started to remove earlier criticisms. Maybe Samsung now also understands that the fuss about leaving out a charger is not big enough that it damages sales figures, and on top of that, it delivers a nice saving. With Apple, however, this does not translate to a lower price, but possibly the entry S21 does see a drop in price.
Criticism not new
The fact that Samsung is criticizing Apple is not new. The fact that Samsung has to keep crawling back to its remarks again and again is becoming more and more painful. We suggest that Samsung focuses more on itself instead of the competition.