Earlier, the official press images of the Samsung Galaxy S21 and the S21+ were leaking out. The waiting was for those of the S21 Ultra. It was certain that they would soon follow. And now the time has come.
Does Samsung still use a white wallpaper on the S21 and S21+, the S21 Ultra becomes a lot more mysterious. It gets a black wallpaper. It also looks a lot like the S21+ and therefore also like the entry-level S21. The only difference is the size.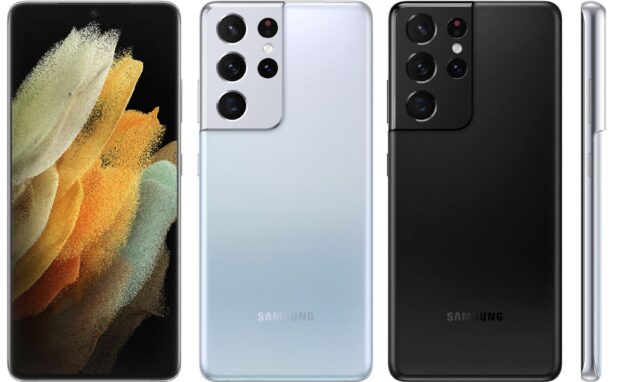 The camera island at the back is significantly different. Not only is it a lot bigger, it also contains more cameras including a high 108MP. Another rumor is that the Galaxy S21 Ultra can be operated with the S Pen. It is not included in the housing, but presumably Samsung will soon sell a case in which you can store it. This will be the first time that a non-note device will get support for the stylus.
Selling price Galaxy S21, S21+ and S21 Ultra
If the rumors are true, Samsung will announce the Galaxy S21 family on 14 January 2021. The entry S21 will cost 879 euros according to the Dutch GalaxyClub. The slightly larger S21+ starts from 1079 euros and for the S21 Ultra you need to bring at least 1399 euros. For the S21 this means a price drop of 120 euro (for the 5G model). For the S21+ it is a modest discount of a few tens. The S21 Ultra is just 50 euros more expensive.
(via)