At the beginning of the video Lewis warns that both the Pixel 7 and the Pixel 7 Pro do not boot up. Both phones are prototypes, and Google may have locked both phones remotely. Something it has also done with other prototypes.
That said, we do get a good look at the exterior. Both a scale and ruler are brought to the table. But as far as we're concerned, it gets interesting when Lewis compares the new Pixels to the Pixel 6 and 6 Pro.
Compact Pixel 7
It then becomes clear that the Pixel 7 in particular is getting a bit more compact. The device is both less wide and less long. Google is most likely applying a slightly smaller screen than the 6.4-inch OLED screen of the Pixel 6. However, the screen bezels are also slightly smaller, adding to a smaller device.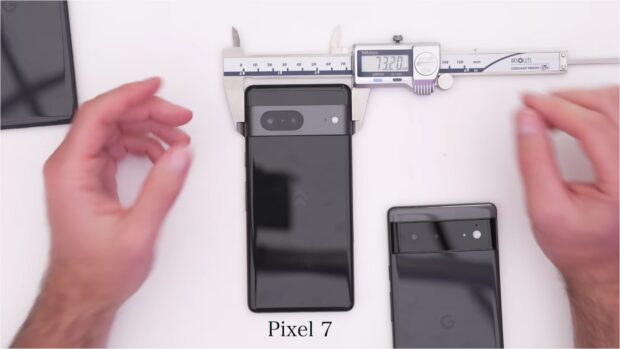 The Pixel 7 Pro remains largely the same size as the 6 Pro. However, the screen edges are a bit more uniform with a smaller chin than last year. Both devices have a glossy back made of glass—ideal for collecting fingerprints. The Pro's frame is also glossy, thanks to its polished finish. On the non-Pro version, we see a matte finish.
Android 13
Lewis expects Google to launch both Pixel phones in early October. In previous years, new Pixel phones were always released along with the launch of a new Android version. Android 13, however, has already been announced in mid-August. But this year everything is different, as Google showed the Pixel 7 and Pixel 7 Pro already in early May during Google I/O.