The Galaxy A31 is already the third Galaxy A phone announced by Samsung this year. As far as we are concerned, this is the most interesting one. Although the screen size of 6.4 inches remained the same, the resolution has improved considerably. Going from HD to Full HD makes images a lot sharper.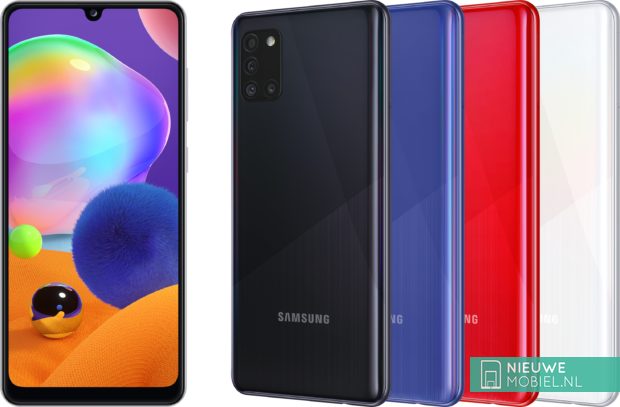 Samsung uses a Super AMOLED panel for bright and vivid colors. At the top is a U-shaped notch for a 20 megapixel camera. This is an upgrade compared to last year, but unfortunately this is not the case for the lens. It goes from f/2.0 to f/2.2, which makes it slightly less sensitive to light. This may be compensated by the larger camera sensor. There is also an increase in resolution on the back. The main camera now has a 48 megapixel sensor. There is also an 8 megapixel ultra-wide-angle camera, a 5 megapixel depth camera and a 5 megapixel macro camera. In total 4 different cameras; 1 more than last year's A30s.
Galaxy A31 battery
But as far as we are concerned, the best improvement of the A31 is the battery. The capacity increases from 4000 to 5000 mAh. There is fast charging up to 15 Watt. Samsung notes that there will be models with 4 GB of working memory + 64 GB storage and 6 GB with 128 GB. In terms of storage memory this is twice as much as the 32 GB of last year. You can always add extra memory up to 512 GB by placing a memory card. Pricing and availability have not yet been announced. What we do know are it's future colors; Prism Crush Black, Prism Crush Blue, Prism Crush Red and Prism Crush White.