The Samsung Galaxy M23 is an affordable 5G phone with ample battery, a smooth 120Hz screen and a triple camera system with 50MP sensor. Oh and it's also relatively powerful thanks to its Qualcomm processor. Who is this device suitable for and who is less so? To that question we are going to find an answer here
Qualcomm 5G processor for gaming
Samsung created the Galaxy M series to market phones with large batteries. And especially people with a tight budget. Inside this Galaxy M23 is a 5000mAh battery so that task has been fulfilled. The price also seems to be within limits as it is not very expensive. Especially not for a phone with 5G support. This is made possible by a processor that we would not immediately expect. Samsung namely applies a copy from Qualcomm. Processors from Qualcomm are mainly found in more expensive phones. The Snapdragon 750 processor provides very acceptable performance. The Galaxy M23 5G is even suitable for gaming.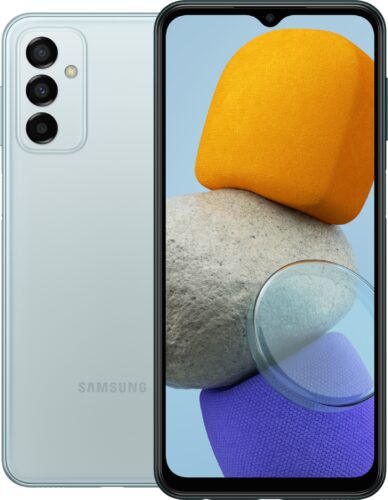 Flattering 120Hz screen for little
For a mid-range phone, the M23 features a very notable specification. A 120Hz display. What does this mean? Modern screens refresh the image every so often. In fact, it does this many times per second, so often that you don't even notice it. Where most competitors do this a maximum of 60x per second, the M23 does it 120 times. This produces much smoother images, especially when displaying moving images. Think of scrolling through a list or when switching between apps. Your phone feels faster because of it, and once experienced and you don't want to go back. That this mid-range M23 has this is special and really only something you see on (much) more expensive phones
Main Samsung Galaxy M23 specifications
6.6-inch TFT display with smooth 120Hz but dated notch
50+8+2MP camera with 123° wide-angle lens, macro mode and 4K video
8MP front selfie camera with portrait mode for blurry backgrounds
Redibly powerful Snapdragon 750 processor with 5G support
128GB of storage, 4GB of RAM memory
room for 2 SIM cards and a memory card (up to 1TB)
Rough 5000mAh battery with 25W fast charging
50MP Triple Camera with 4K video
Samsung applies a triple camera system on the back of the Galaxy M23 with 50MP main camera with wide-angle lens. If you want an even wider viewing angle, you switch to the 8MP ultra-wide-angle lens of 123 degrees. That's wide enough to photograph buildings in their entirety or a vast landscape. The third camera is a 2MP macro camera for extreme close-ups, think insects or flowers. Video shoots the M23 in up to 4K which is very neat considering its price category. Videos and photos are stored on the 128GB built-in storage memory which is expandable by up to 1TB. What also fits in the device are 2 SIM cards, of the nanoSIM type that is. You do not even have to choose, both two SIM cards and a memory card fit in it simultaneously.