Sony has sent out invitations for a press announcement on May 11. This is an announcement for a new Xperia phone and our first guess would be the Xperia 1 IV which has been popping up on the rumor circuit for some time.
The event will be broadcast online on May 11 at 09:00 CEST on Sony's YouTube channel. The description reads "the next ONE is coming". The intro video shown lists all the Xperia 1 models. So it is safe to assume that the Xperia 1 IV will be announced.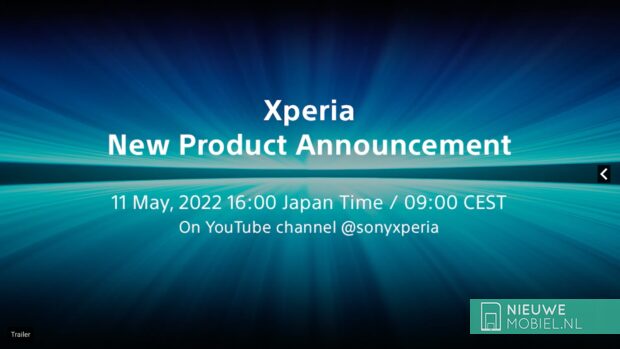 While the Xperia 1 line is not Sony's most comprehensive line, which is reserved for the Pro line, it is Sony's flagship line. For example, the 2019 Xperia 1 was the first to bring us a 4K OLED screen. The 2020 Xperia 1 II was the first phone to feature 20fps AF/AE tracking burst for fast and reliable autofocus. In 2021, Sony announced the Xperia 1 III which had the first 4K OLED panel with smooth 120Hz playback.
Processor, camera, fast charging
What new technology will debut on the Xperia 1 IV is still unknown. It is obvious that this phone will get the Qualcomm Snapdragon 8 Gen 1 processor but that does not make it the first. There are also rumors that the camera sensor will go up to 50MP in size but that is also not unique either. Furthermore it was leaked that the Xperia 1 Mark 4 has fast charging up to 30W, but so did the Xperia 1 III. We'll have to wait and see what new technology the 1 IV comes up with.