Just now images and a video surfaced showing the future Samsung Galaxy S21. As far as the front is concerned, there don't seem to be much changes. Most changes can be found on the rear.
Samsung still does not seem to have found the perfect recipe for a camera layout. The S20, S10 and even the S9 are not exact copies of their predecessors. The same goes for this S21. Although the triple camera is located in the same upper left corner, it is not on a separate island as with the S10, but it gradually descents into the rest of the housing.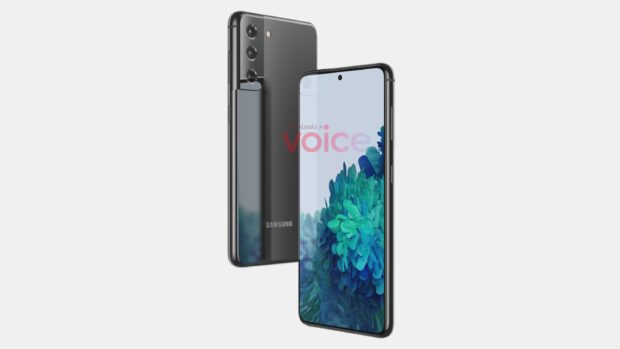 The image above comes from @onleaks who decided to published these renders on Voice. Of course our attention immediately goes to the back of the S21 but there is also something to be said about the front. It seems that Samsung has finally succeeded in creating a symmetrical front. The S20 had more space underneath the screen than above. The punch hole for the single selfie camera is still at the top and in the middle.
6.2 inch flat screen
From the dimensions of the device we can conclude that the screen measures about 6.2 inches and that it is flat. In recent years, Samsung has always used a screen that was rounded near the edges. Although lately the curvature was not as drastic as it used to be. Whether the S21+ and/or Ultra also gets a flat screen, just like the S20 FE, remains to be seen.
Launch Samsung Galaxy S21
Exact specifications are not given by @onleaks. However, the camera's looks much larger on the image, suggesting that it is a higher resolution module. No guarantees however. Choice of material is also a big unknown. Maybe the back is made of glass, maybe it turns out to be something completely else. We may hear it as early as January. The launch of the Samsung Galaxy S21 may have been brought forward to January 2021, at least the very last rumor.