The Samsung Galaxy A21s is an affordable and stylish smartphone with 4 cameras on the back and a modern Infinity O-Display on the front. For an entry-level phone, the A21s is surprisingly well equipped. Samsung really sets the bar high for the competition.
Spacious screen for hours of fun
To start the screen. It measures a generous 6.5 inches and has a remarkably small punch-hole for the 13 megapixel selfie camera. We are familiar with this Infinity-O Display of the expensive Galaxy models, but Samsung is using it more and more often. So now also in an entry-level model. A large and barely interrupted screen ensures that you can take content without much distraction. Watching films in this format, for example, is not a punishment at all. Because image is not possible without good sound, Dolby Atmos has support that we know from the spatial sound. Afraid you'll end up halfway through the movie with a flat battery you don't have to be. The built-in battery of the A21s has a capacity of 5000 mAh. More than enough for a day's use. Moreover, there is support for fast charging up to 15 Watt. This makes hours of charging a thing of the past.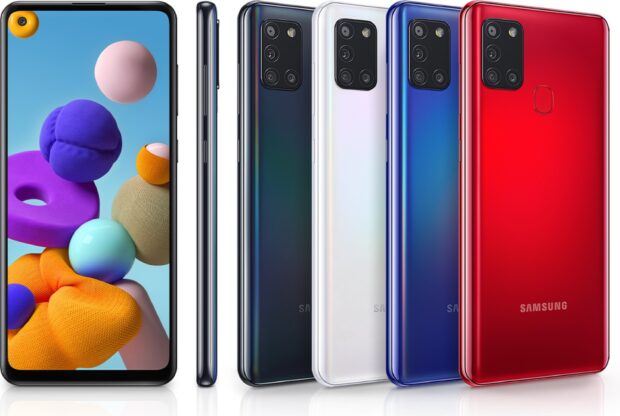 Four camera with stickers
Nowadays we want better and better cameras on our phones. And they're getting more and more accessible. For example, the Galaxy A21s is equipped with 4 different cameras on the back. The main camera is equipped with a 48 megapixel sensor to capture razor-sharp details. The reasonably bright f/2.0 lens ensures that you shoot well-exposed photos even with a fencer. Landscapes and large groups can be captured with the 8 megapixel wide-angle lens. Depth sees the A21s thanks to a 2 megapixel depth camera and finally there is a 2 megapixel macro lens for extreme close-up photos. A separate zoom camera is missing, so you can only zoom in digitally which always leads to a quality reduction. Or of course you have to stand a bit closer. According to Samsung, this is worthwhile, because there are lots of fun camera functions such as filters and stamps that even work on the basis of facial recognition.
Main Samsung Galaxy A21s specifications
Infinity-O Display of 6.5 inch large with HD+ resolution and small punch-hole
48+8+2+2MP camera with macro and wide-angle lens
4G support for fast mobile internet
Fast 2 GHz processor with 3 or 4 GB of RAM memory
Possibility to place memory card (up to 512 GB)
Dual SIM functionality
A lot to choose
Your mobile phone is one of your most precious and personal possessions. You like to keep it private. You can secure it with the fingerprint scanner on the back or with facial recognition. The latter doesn't work as well in dark rooms, but you have a choice which is always nice. Samsung has equipped the A21s with an octacore processor and in variants with 3 GB RAM memory + 32 GB storage and 4 GB RAM memory and 64 GB storage. If your wallet allows it, we recommend going for the latter. Not so much because it has more RAM memory, but because of the doubling of storage memory. Of that 32 GB, only half is free for your own use. And even though you can put memory cards in your device, you can't install apps on it like you used to. That memory card is only for photos, videos and documents. And then 16 GB is quickly full. Another downside: the casing isn't waterproof. So keep it out of wet situations as much as possible.