Samsung Galaxy S21 review
Two steps forward, one necessary step backwards
The Samsung Galaxy S21 is perhaps Samsung's strangest flagship in years. After all, the S21 finds itself exactly in a period of transition. A period before the S20 FE and a period after. Instead of the usual two steps forward, the S21 also takes one step backwards. Although that looks worse than it really is.
If we compare the Samsung Galaxy S21 with the S20 5G from last year, we notice a few things. The screen resolution is less sharp, the back is made of plastic, the memory card slot has disappeared and the camera specifications are almost the same. Yet Samsung expects consumers to queue up for the S21. Especially because it is cheaper. But is it enough?
Contents of the box
USB-C to USB-C cable
Quick start guide
Warranty card
SIM card eject tool
The answer to that question is not very relevant. After all, Samsung can get away with it. Samsung's biggest competitor Apple has been doing the same for years, and the technically advanced Huawei has been decimated in the past year. Samsung does not have to compete on specifications anymore, and in terms of price, it cannot and does not have to compete with cheaper Chinese competitors as long as it continues to deliver the quality and software updates that we have come to expect from it. Competitors of the Galaxy S21 are therefore scarce. Already the OnePlus 8T, the Xiaomi Mi 11 and to a lesser extent the iPhone 12 are some that come to mind.
---
Pro and cons Samsung Galaxy S21
Good screen
Versatile camera with good results
We welcome the price drop
Little progress at first glance
Missing memory card slot and charger
Plastic back on a flagship
---
Design
If you don't want to focus on the inside, you will have to make do with your outside. The Samsung Galaxy S21 therefore gets a new design with matching Prism colors. The camera has been given its own space, which Samsung calls 'Contour Cut Camera'. You can immediately recognize an S21 model by it. If Samsung keeps this up in future models, it could become a very recognizable marketing tool.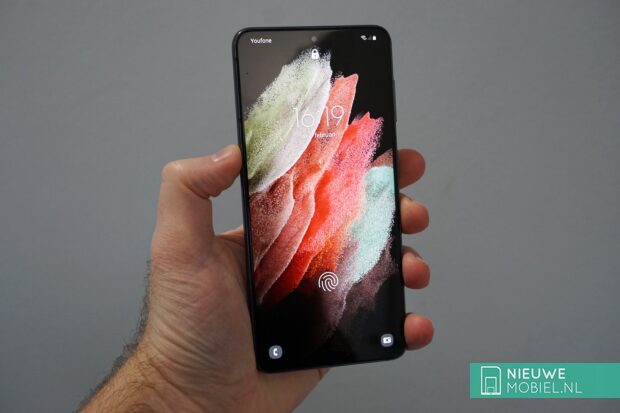 The front has a bezel-less display with a flat panel. The screen edges seem a bit larger than its predecessor because of this, although it will not differ much. At the top, there is still a single selfie camera exactly in the middle. The fingerprint scanner is also still in the screen but is much larger this time. Unlocking is lightning fast and works well in most cases. The protective glass is Gorilla Glass 7 which is officially called "Victus". This glass should survive drops up to 2 meters.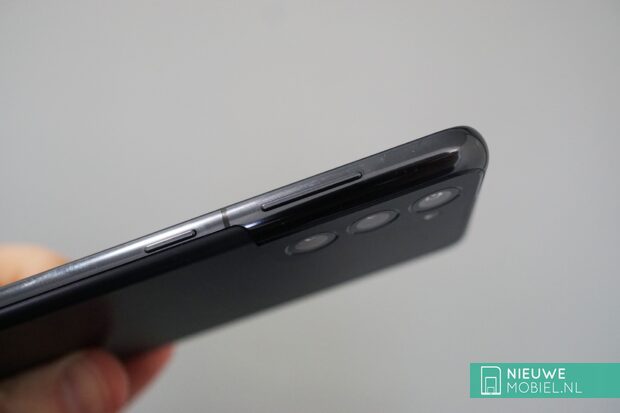 The sides are slightly rounded and have a glossy finish. All buttons are on the right, there is no separate Bixby button anymore. The volume buttons clearly require more force to be pressed than the power/wake button. On top is a double microphone with a third one at the bottom. There you will also find the speaker grill and the SIM card slot. In our review copy, 2 nanoSIM cards fit although there are also versions on the market with an eSIM. Finally, at the bottom you will find a USB-C port that you can use to fast charge up to 25 Watts. That's not very fast these days.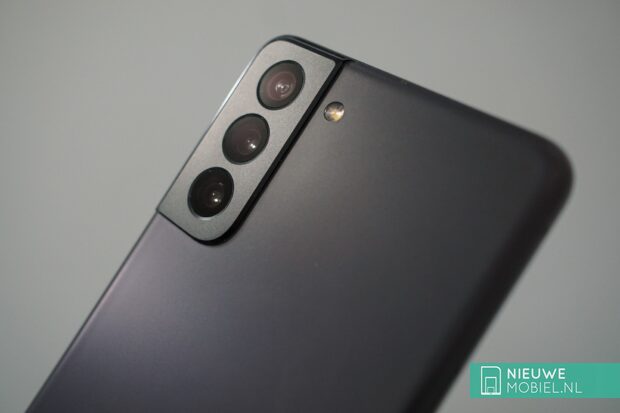 As mentioned, most of the attention goes to its rear. And not just because of the renewed camera module. Samsung is replacing the glass back with plastic. Plastic on a phone of over 800 euros sounds like a no-go. Samsung itself does not mention the word plastic at all. Instead it speaks of polycarbonate. The back has a matte finish and does not feel cheap at all. Plastic has an additional advantage; it does not break as easily as glass and does not scratch as much as metal. Plastic also feels warmer. Maybe we just need to get used to it, because in practice it didn't bother us.
Performance
Samsung, as usual, provides different processors in different markets. In Korea, China and the US that's the latest Snapdragon and the rest get Samsung's own and latest Exynos. Much to the dismay of some. That's because the Exynos was no match for the Snapdragon in recent years. It not only was slower, it also drained the battery more. This year, the Snapdragon 888 and Exynos 2100 are much more evenly matched. The Exynos 2100 can keep up with the Snapdragon 888 thanks to a higher clock speed.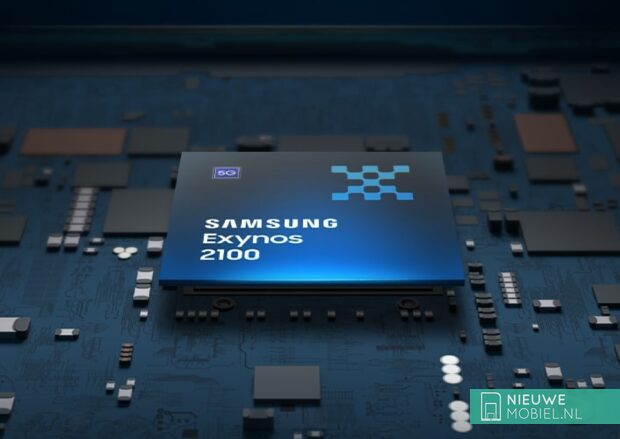 The one thing that doesn't compare well is the GPU; the graphics chip. The Snapdragon 888 is still the dominant processor in this regard. Samsung hopes to do something about this in the future by collaborating with AMD. For now, Samsung has settled by applying a lower screen resolution. Fewer pixels require less processing power, so you won't notice the difference quickly.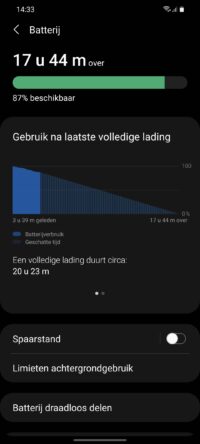 In practice, we've had no complaints with our S21 with Exynos 2100. It feels fast everywhere. Apps start almost instantly, animations have always been smooth. From a battery level of 30%, the S21 automatically switches to custom battery saving mode with correspondingly low screen refresh. Then it feels slow. As far as we were concerned, this could also be 20% but we couldn't find anywhere where this could change this. Turning it off completely was the only option.
Screen
To start with the elephant in the room; yes the Galaxy S21 has a lower screen resolution. Instead of the exuberant Quad HD (3200 x 1440 pixels), it has now opted for Full HD (2400 x 1080 pixels). We would like to point out that with the S20, you still had to choose between Quad HD (sharper image) or 120Hz (smoother animations). In practice, we always choose the latter. A resolution of Full HD on a screen size of 6.2 inches is still very sharp and moreover almost as sharp as the iPhone 12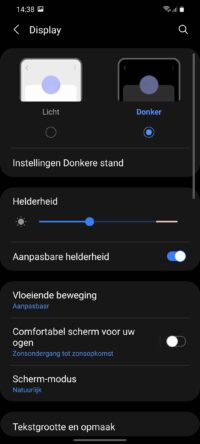 The screen is still a Dynamic AMOLED 2x Infinity-O Display but this time with a higher peak brightness of 1300 nits. This makes it more readable in full daylight. The maximum refresh rate is again 120Hz but can scale down to at least 48Hz for when there is no movement. This saves battery life. You can also choose 60Hz for maximum battery savings. You'll miss out on the smooth transitions and smooth animations though. We cannot advice this setting though.
Software
Samsung ships the Galaxy S21 with Android 11 from the box with One UI 3.1 on top. Version 3.1 is slightly more streamlined but still inextricably recognizable as One UI. It has more integration with Google software this time around. For example, you can add Google Discover to your home screen, you can more easily reach smart devices you've added to Google Home, and there's Google Duo support for video calling. There's also a lot of Microsoft integration, with Windows for example. If you have other Galaxy devices in your home, you can pair them. You can continue to use apps on the other Galaxy device. For now, this only works with Samsung Internet and Samsung Notes.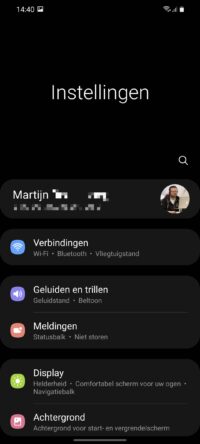 One UI 3.1 is full of functions and that makes it a little confusing at times. What also does not help is that Samsung sometimes moves functions from one menu to another. This is often solved by showing a block at the bottom with shortcuts to these old menu items.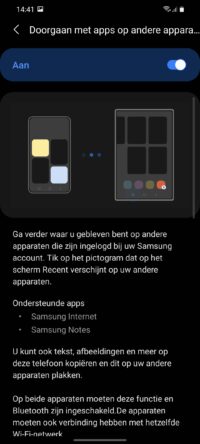 Hardware
The Galaxy S21 is certainly not Samsung's first 5G phone, and it likely won't be its last. 5G is not yet available everywhere and you will have to pay extra to use it. In return, you get a nice 5G icon and faster mobile Internet. You can switch 5G off if you want and only use 4G. If it becomes widely available, at least you'll have a phone that can handle it well.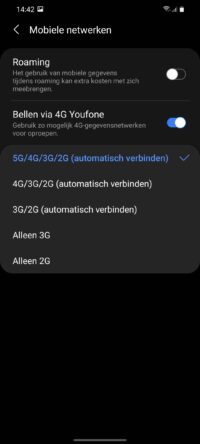 In terms of hardware, the S21 clearly differs from all its predecessors. It is the first Galaxy S without memory card expansion. Simply and cheaply adding extra memory is no longer possible. A pity and a pain at the same time. Because Samsung always mentioned it as an enormous advantage over the competition. But in reality it is not that bad. The standard model comes with 128GB, and for a little more you have double. That will be enough for most people. And if not, you can always store content in the cloud. And with 5G and WiFi-6 you can access that at lightning speed. That makes it a non-issue.
We already talked about fast charging, which is maxed out at 25 Watts. For comparison; OnePlus has already reached 65 Watts. A full charge takes longer, in the case of the S21 almost one and a half hours. The OnePlus 8T is fully charged after just 30 minutes. A few minutes on the charger will not get you very far. It's a shame that Samsung isn't more ambitious, but they can't be blamed for being so cautious either. Samsung is not in the mood for another battery scandal.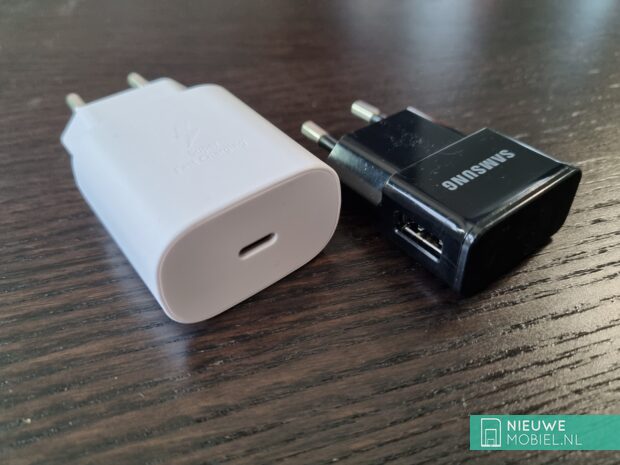 ---
---
Questions and answers about this Samsung S21 review