---
Reviews about the Xiaomi Mi A3
| | | |
| --- | --- | --- |
| 5 stars | | 0 reviews |
| 4 stars | | 0 reviews |
| 3 stars | | 0 reviews |
| 2 stars | | 0 reviews |
| 1 star | | 0 reviews |
Want to earn $50?
Every month we select a winner among all user opinions that were submitted. That person wins a voucher of $50. The only thing you need to do to is write your very own user opinion and let us and others know what you think about this product. Click the button below to start.
---
---
Xiaomi Mi A3 product details
The Xiaomi Mi A3 is already the third Android One device of the Chinese Xiaomi. Android One offers clear advantages over other Android phones. What exactly and what progress Xiaomi has made with the A3 we would like to explain here.
Triple camera with wide-angle lens
We know the Xiaomi Mi A devices as inexpensive Android One phones with appealing features. This Mi A3 does not disappoint. On the back, for example, is an AI Triple Camera. That's three cameras of which the highest resolution is a not nauseous 48 megapixel. Now it's not so much about how high that number is, but more about what you do with it. The Sony 48 megapixel sensor uses 4 pixels to create 1 superpixel that is better exposed, has less noise and generally produces sharper and more detailed images. But the real star as far as we are concerned about the triple camera system is the new 8 megapixel camera with 118 degrees wide angle lens. It captures vast landscapes in a single shot. The third camera is mainly for recognizing depth and enables background blur.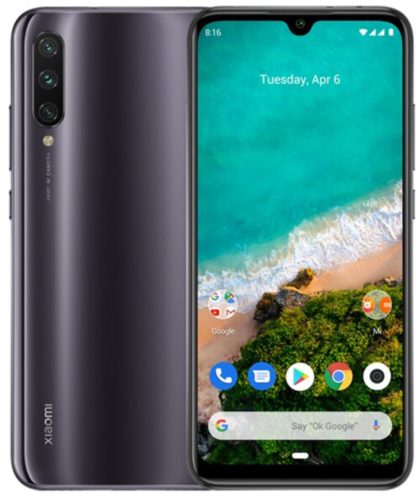 An old friend: headphone port and infrared
This Mi A3 also has some interesting improvements over its predecessor; the A2. For example, the battery capacity has increased by more than 1000 mAh. With a screen size that has remained almost the same, the A3 will last much longer than its predecessor. There is support for fast charging of up to 18 Watt. Xiaomi delivers a quick charger in the box, but that goes up to 10 watts. So if you want to charge even faster on the road, you have to buy an 18 watt fast charger separately. The Mi A3 also has an old acquaintance: the headphone port. To Xiaomi's great dissatisfaction Xiaomi removed it on the A2 but reintroduced it on the A3. So you can plug in your own favorite headphones again. Infrared is also back so you can use it as a TV remote control.
Main Xiaomi Mi A3 specifications
Modern 6.09 inch Dot Drop Display with built-in fingerprint reader
Part of the Android One program with guaranteed updates
AI Triple Camera up to 48 megapixel with wide-angle lens
32 megapixel selfie camera with face unlock
Powerful Snapdragon 665-processor at up to 2 GHz
Fast on the go 4G internet
Dual SIM functionality (shared with Dual SIM slot)
New screen with pros and cons
The screen on the Mi A3 is one of his biggest eye-catchers. Just like the A2 Lite, it has a notch for the selfie camera. That allows Xiaomi to get it tight against the edge. What's more, it just looks modern. The fingerprint scanner is also incorporated in that screen. Although modern, it's not as fast as a physical fingerprint scanner. What's more, Xiaomi has remarkably reduced screen resolution from Full HD+ to HD+. This is still sharp enough for most people, but the trained eye will notice it. This is made up for us by swapping the LTPS panel for an AMOLED copy. AMOLED delivers clear images with very high contrast values. That's how black really is black. Also the readability outside is improved.
---
Most important Xiaomi Mi A3 specifications
Dimensions
153.48 x 71.85 x 8.475 mm
Weight
173.8 grams
EAN code
6941059626343, 6941059626336, 6941059626329, 6941059626312, 6941059626305, 6941059626299
Fingerprint recognition
Android
9.0 (Pie)
Color display
6.09 inch, AMOLED Dot Drop Display
Camera
2 MP, 48 MP, 8 MP
Processor
2.0 GHz, Qualcomm Snapdragon 665, octa core
Secondary camera
32 MP
Dual SIM
LTE (4G)
Internal memory
4 GB (Size (RAM)), 128 GB (Storage), 64 GB (Storage)
Battery
4030 mAh
Fast charging
---
Video's about the Xiaomi Mi A3
Always wanted to know what your Xiaomi Mi A3 looks like on the inside? Don't let it break but watch this video if you really want to know
Xiaomi introduces the Mi A3; a worthy successor with three cameras, a modern screen and a colorful jacket.
A Xiaomi Mi A3 you buy next to Android One of course because of his camera. What this 48 megapixel beast is capable of you can see here
---
Alternatives of the Xiaomi Mi A3
Scroll the table below to see more
| | | | | | |
| --- | --- | --- | --- | --- | --- |
| | | | | | |
| | | | | | |
| | Current product | | | | |
| Fingerprint recognition | | | | | |
| Android | 9.0 (Pie) | 9.0 (Pie) | 9.0 (Pie) | | 9.0 (Pie) |
| Color display | 6.09 inch, AMOLED Dot Drop Display | 6.1 inch, Curved Dynamic AMOLED Quad HD+, hole-punch display | 6.4 inch, Curved Dynamic AMOLED Quad HD+, hole-punch display | 6.5 inch, Infinity-O Display, hole-punch display | 6.3 inch, Dynamic AMOLED Infinity-O Display |
| Camera | 2 MP, 48 MP, 8 MP | 12 MP, 12 MP, 16 MP | 12 MP, 12 MP, 16 MP | 12 MP, 48 MP, 5 MP, 5 MP | 12 MP, 12 MP, 16 MP |
| Processor | 2.0 GHz, Qualcomm Snapdragon 665, octa core | 1.7 GHz, 2.4 GHz, 2.8 GHz, octa core | 1.7 GHz, 2.4 GHz, 2.8 GHz, octa core | 1.7 GHz, 2.3 GHz, Samsung Exynos 9611, octa core | Octa core |
| Secondary camera | 32 MP | 10 MP | 10 MP, 8 MP | 32 MP | 10 MP |
| Dual SIM | | | | | |
| LTE (4G) | | | | | |
| Internal memory | 4 GB (Size (RAM)), 128 GB (Storage), 64 GB (Storage) | 8 GB (Size (RAM)), 128 GB (Storage), 512 GB (Storage) | 12 GB (Size (RAM)), 8 GB (Size (RAM)), 1 TB (Storage), 128 GB (Storage), 512 GB (Storage) | 6 GB (Size (RAM)), 128 GB (Storage) | 8 GB (Size (RAM)), 256 GB (Storage) |
| Battery | 4030 mAh | 3400 mAh | 4100 mAh | 4000 mAh | 3500 mAh |
| Fast charging | | | | | |
Complete comparison between the Xiaomi Mi A3 and these alternatives or compare with other models
---
Questions and answers about the Xiaomi A3