A portion of Samsung's roadmap for 2022 has been leaked. The leak not only mentions a number of as yet unannounced Galaxy phones but also the targeted sales goals. For example, Samsung hopes to sell as many as 40 million Galaxy S22 models in 2022.
We're talking about the entire S22 series consisting of the Galaxy S22, S22 Plus, S22 Ultra and the S22 FE. Whether the latter will actually be announced in 2022 remains to be seen by the way, even the S21 FE has yet to be announced.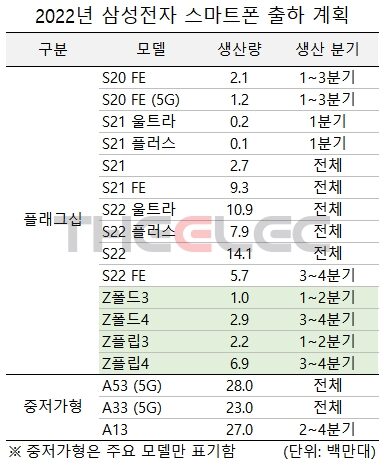 So look at those sales numbers more as a dot on the horizon, something to judge Samsung executives on when they fail to meet these targets. After all, a lot can happen in a year. In any case, it is a fact that Samsung has a bright future ahead of it. Samsung hopes to sell 14.1 million units of the S22, while the target for the S21 was 10 million the year before. And that while there is still a worldwide shortage of chips.
Sales targets Galaxy A and Z
Those numbers pale in comparison to some Galaxy A models. Samsung, for example, hopes to sell as many as 28 million units of the A53 5G alone; a device that, at the time of writing, has yet to be announced.
The future also looks bright for the foldable Galaxy Z series. For example, Samsung hopes to sell 6.9 and 2.9 million units of the Galaxy Z Fold 4 and Flip 4 respectively. In total Samsung has set itself the goal to sell no less than 13 million foldables in 2022. For comparison; according to Strategy Analytics, a mere 2 million foldables were sold worldwide in 2020 alone.
(via)