So-called molds of the upcoming iPhone 14 series have surfaced. We see a total of 4 different models and get a good idea of the difference in size.
Four different iPhone 14 models. A 6.1-inch large iPhone 14 and iPhone 14 Pro and a 6.7-inch large iPhone 14 Max and iPhone 14 Pro Max. Missing from this is a small iPhone 14 mini. That model will be discontinued starting from 2022.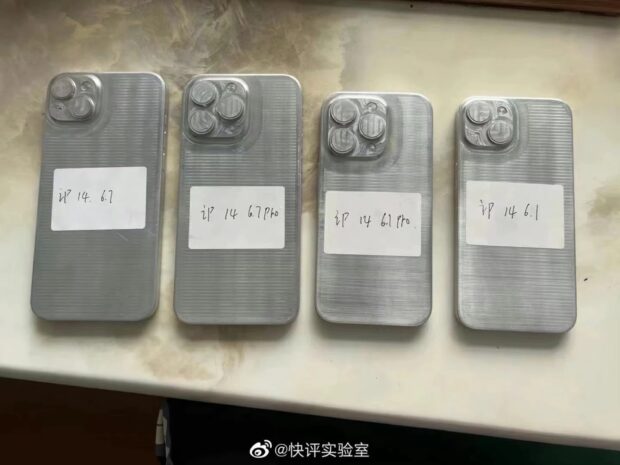 Biggest difference between the regular iPhone 14 models and the Pro version are the cameras. The Pro will get 3 cameras on the back, the entry-level models will get 2. Apple is already applying this strategy except that there is no larger Max version of the iPhone 13. We don't know yet if it's optical trickery but the already hefty camera module seems to be getting even bigger for this year.
48MP camera
The latter could very well be the case given another rumor. Apple wants to (finally) trade the 12MP sensor for a larger one. A 48MP to be precise. This is not only results in sharper images but the sensor is also physically larger.
Another difference is found at the front. Instead of one wide notch, Apple is switching to a pill shape + punch-hole. This would then contain all the Face ID components. The whole thing still takes up a substantial portion but looks less large because there are pixels all around it.
End for iPhone 11
Other differences may be slightly thinner screen bezels, 120Hz ProMotion screens only for the Pro models. What remains is the same A15 Bionic processor. Although we don't rule out Apple marginally tweaking it so it can release it as the A16 Bionic. Another rumor is that Apple will discontinue the iPhone 11 once the iPhone 14 is announced. After this, the iPhone 12 will become the new entry-level model.
(via)